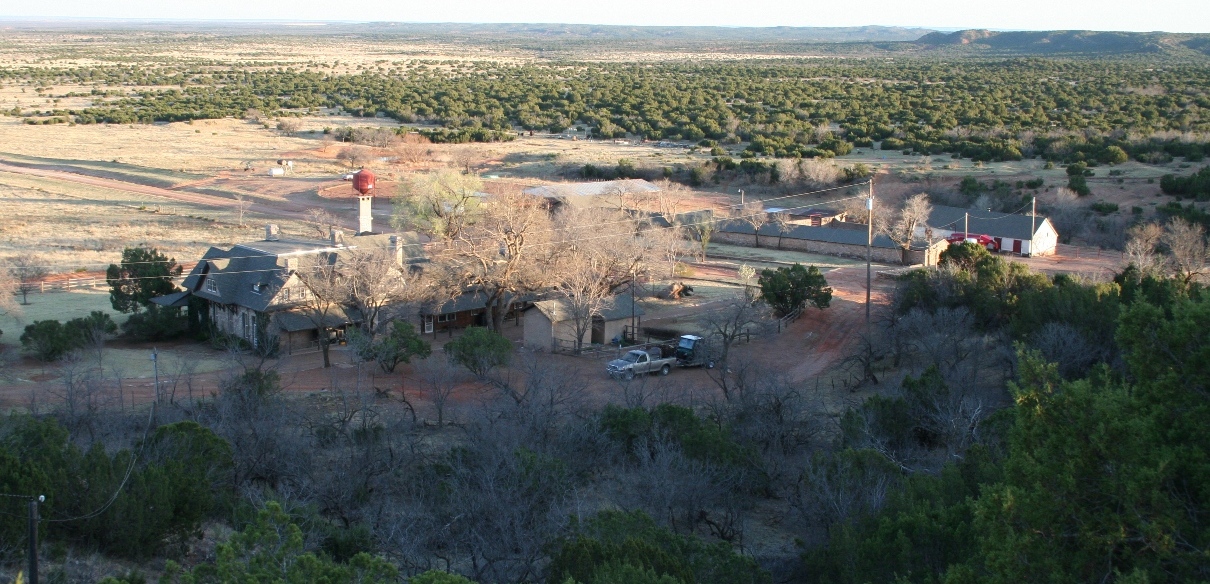 HISTORY of the JA, THE RITCHIE FAMILY and the JA FAMILY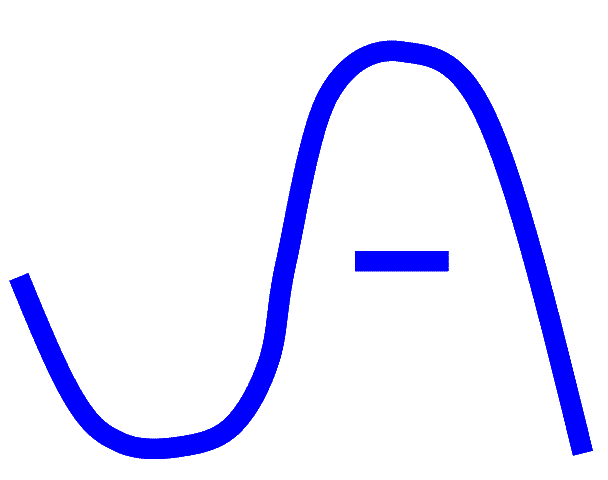 Read a great presentation on Montie Ritchie, the JA and Montie's art by Alex Hunt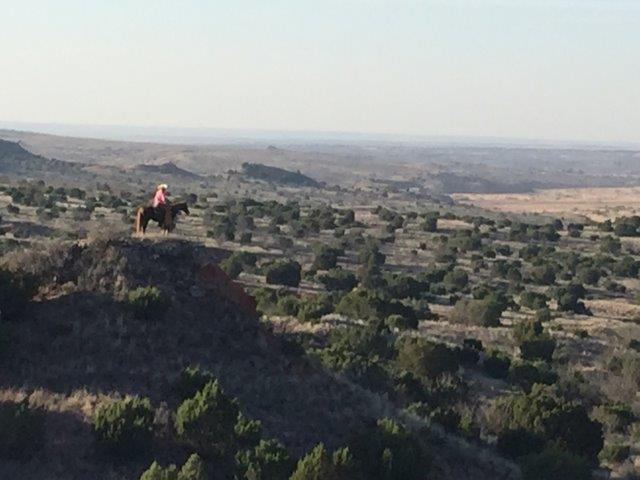 The JA, the oldest ranch in the Texas Panhandle, has an illustrious history, tied to one family since the Panhandle was first settled.
Cornelia Wadsworth was born in 1837 and raised near Geneseo, New York on a farm her ancestors had purchased from the Seneca Indians. Hence, her tradition was one of keeping land in a family. In 1857, she married Montgomery Ritchie (1826-1864) of Boston. He served with the Second Infantry Battalion of the New England Guard during the Civil War. After the battle of the Wilderness, Ritchie crossed the Confederate lines and retrieved the body of this father-in-law General James Wadsworth and escorted it back to Geneseo. Just a few months later, Ritchie was killed in battle.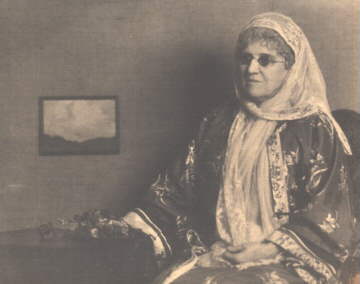 Cornelia Wadsworth Ritchie Adair
In his book on the JA Ranch, Harley True Burton says Cornelia Ritchie met an Irish landowner named John George (Jack) Adair in 1867 at a ball in New York City. The Adairs married in 1869 and moved to New York, where Adair had already established a brokerage office (borrowing large sums in Ireland at 4% interest and lending small sums at 10% interest). Adair's Irish temper was inadaptable to New York City's society or to the Wadsworth's peaceful farm life.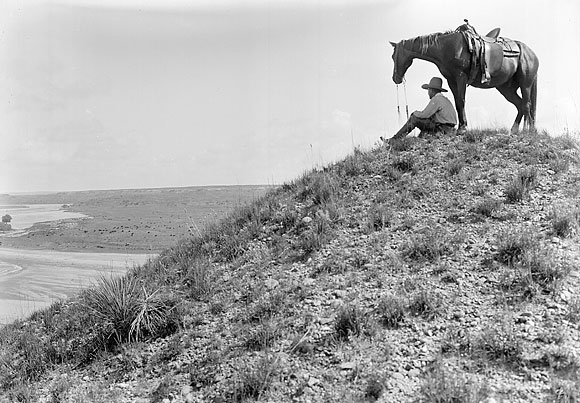 Erwin E. Smith, Day Herder with the JA Overlooking a Fork of the Red River and Taking Things Easy, 1908
Mrs. Adair's grandson Montie Ritchie always suspected that the Wadsworth's heard of the rugged frontier types in the mining towns of the west and decided they had just such a one in John Adair in the bosom of their own family. He felt they promoted, perhaps, John's departure for the wild west. During the year 1874, the Adairs journeyed west to Colorado, riding up the Platte River from Sidney, Nebraska, visiting Indian lodges as they went and protected by an escort of Cavalry. They spent the summer inspecting potential mining investments in Colorado. The highlight of their trip was a buffalo hunt on the plains of the Colorado guided by Charles Goodnight. Around the campfire at night, Goodnight told them of the Palo Duro Canyon in Texas and explained its unique properties for a cattle ranch where the cattle could roam as the buffalo did and thrive, grazing on the surrounding plains in the summer and wintering in the shelter of the canyons. Alas the buffalo hunt ended on an unfortunate note when John Adair's horse, galloping after buffalo, stepped in a prairie dog hole and fell. John Adair's gun accidentally discharged, killing his horse. John himself sustained serious injury as a result of the fall.
Returning in 1876, the Adair's rode with Mr. And Mrs. Goodnight from Pueblo, Colorado to the where the Prairie Dog Fork of the Red River had formed Palo Duro Canyon. Just two years earlier, the Indians had been subdued on what was to become the ranch near Battle Creek. Finding it as Mr. Goodnight had represented, they formed a five year term partnership with Goodnight. Charles Goodnight was to provide the know how and the Adair's the money to purchase the land to control the grazing of at one time almost one million acres of land on both sides of the Palo Duro Canyon. John Adair's initials became the brand.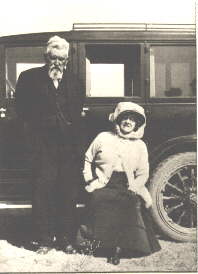 Goodnight & Cornelia Adair
Adair had been lending money at venture capital rates, and this was no exception. The partnership had to pay interest and a $2,500 salary to Goodnight before the profits were split two-thirds to Adair and one-third to Goodnight. The first purchase was 12,000 acres purchased from surveyors Gunter and Munson for seventy-five cents per acre with an option to buy 12,000 additional acres of his choice. Goodnight said, "I took all the good land and all the water I could get." On the second 12,000 acres, Goodnight said, "Well, I scattered all over the Palo Duro canyon; every good ranch in the country, every place a man was liable to come, I took. We surveyed for four or five days and Gunter got to kicking and said, 'Why don't you take this land?' I said, 'I don't want it.' He said, 'I ain't going to run this outfit all winter for you.' I said, 'You contracted to, didn't you?' He said, 'No, I didn't." I said, 'You had better get your contract out and read it.' It stated just what I had claimed.
"Well, we ran all over this country and kept surveying and designating and taking; spotting it up so they couldn't sell it to anybody else. And then he entered into a contract with me that he wouldn't sell to a cattleman unless he bought a ranch."
Communication between the two men demonstrated that Goodnight was continuously wanting to expand and Adair desired to expand slowly and logically. Adair understood the power of capital and subsequent acreage was purchased for twenty-five to thirty-five cents per acre. The largest purchase was the Tule Creek Ranch, for which the JA paid twenty cents per acre. Land was owned principally in Armstrong, Donley, Briscoe, Swisher, and Hall Counties.
Construction on the present ranch house was started in 1879. At the time it was just a cabin built from cedar logs.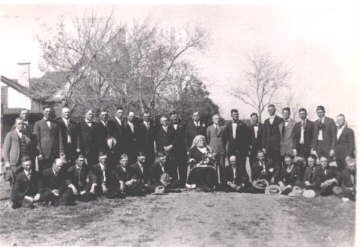 Mrs. Adair on her 84th birthday. Standing: MK Brown (Assistant Manager JA), Whit Carhart, TD Hobart (Manger),
Henry Taylor, JW Kent, WH Patrick, John Dunn, Van Stickley, TE Bagby, Goodnight, Cap Arrington, Judge O.H. Nelson
Herd improvement started in 1881 with the purchase of 200 shorthorn bulls. These must not have proved satisfactory, as the JA purchased 25 Hereford bulls and 625 Hereford cows in 1883. The ranch ran Herefords until 1991.
In 1883, they also fenced the Quitaque ranch. At this time, they had 1,335,000 acres and 100,000 cattle. They had just renewed their five year contract. After paying Adair's substantial interest payment, they still showed a $512,000 profit.
John Adair died in 1885 prior to the expiration of the second term of the contract with Charles Goodnight. Mrs. Adair continued all her life to take an intense personal interest in the growth and operation of the ranch. She insisted on a remuda of all bay horses, and imported purebred Hereford cattle from England. Once, when she found a portion of the ranch stocked with spotted SanSimone cows, she was so outraged that she discharged the foreman who had been responsible for this aesthetic affront.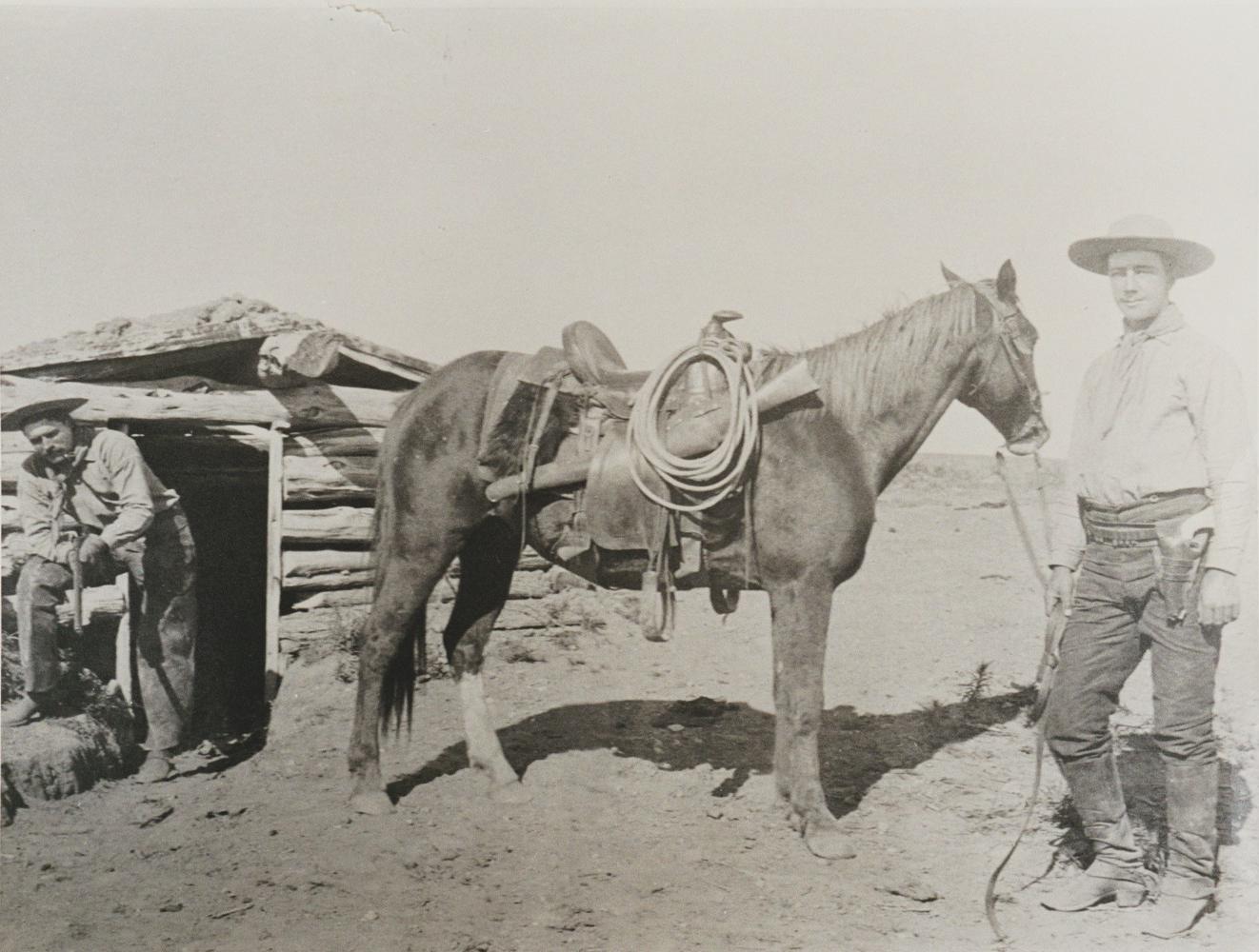 Jack Ritchie and Dick Walsh around 1885 or 1887
Mrs. Adairs son Jack (1861-1924) worked on the ranch as a young man and came to manage the Tule ranch which was then the steer division. During this time he lived in a dugout on the plains on the south side of the Palo Duro Canyon. He often told his son Montie that those were, perhaps, the happiest days of his life. Goodnight did not feel as warm about Jack and demoted him to a cowboy when he found him drinking and gambling with the hands.
When the Goodnight-Adair partnership dissolved in 1887, Goodnight took the 140,000 acre Quitaque ranch and 20,000 cattle for his interest.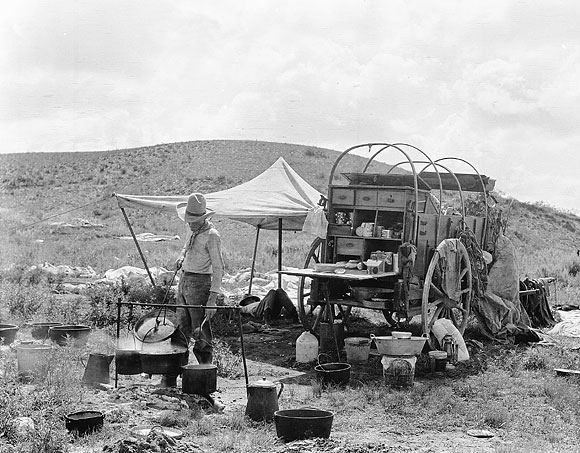 JA Wagon, 1908 bychuckwagon.
Mrs. Adair was an extremely social person and lived in very considerable style. It bothered her and her ambitions for her son when her elegant friends inquired about the welfare of her handsome boy, and she had to reply, "My son is punching cows in Texas." Her concern for her son's future prompted her eventually to order him away from the ranch, egged on perhaps by Goodnight's allegation he was shooting craps with the cowboys. Jack then became a sportsman and worldwide adventurer, engaging in activities ranging from buying JA horses for the New York City Police to visiting ranches in Outback, Australia. He enlisted in the English Army during the Boer War, where his knowledge of living on the Texas prairie was ideally suited to organize the movements of men and horses across the South African Veldt.
In 1887, Mr's Adair built the ornate Adair Memorial Protestant Church close to Ballybrittas in memory of John and his father George Adair. Today, it is called the Rathdaire Protestant Parish Church. It was often referred to as the "lump of gold" on account of the fact that nothing was spared in its construction. When Mrs. Adair died in 1921, her ashes were buried in the wall of the church.
When Mrs. Adair died in 1921 in England, her son was living there too, but his health had so deteriorated he could not return to Texas to care for his heritage. He died in England three years after Mrs. Adair. His English wife felt so strongly about her English family ties she was renaturalized a British subject and raised her family in Europe.
Mrs. Adair's grandson Montie Ritchie kept a broken hairbrush for years. Mrs. Adair had spanked him for bursting into her bedroom and finding her without her wig, breaking the brush. She often rented an estate in the country for the summer and he would go and visit her there. Otherwise, he did not see her much.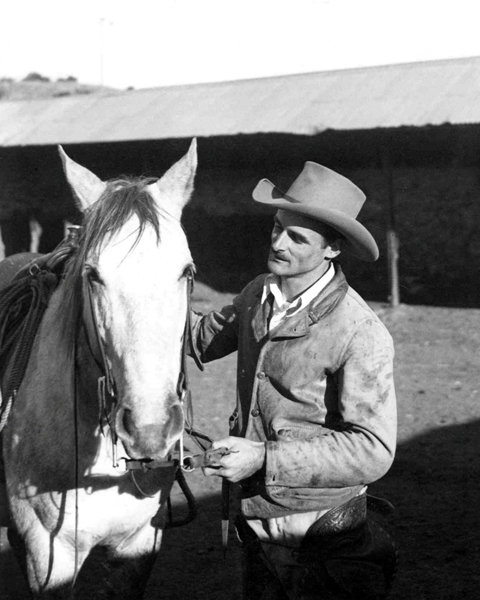 Montie Ritchie
Jack's stories so impressed his son Montie that, having completed an education in Europe at 21, he traveled to the ranch to see these wonders and perhaps to check on the veracity of the wild tales his father had told. Never having been in the United States before, in 1931, Montie and his brother Dick braved the dust bowl and Montie arrived at ranch to remain for the rest of his life.
In 1931, the ranch was being run by Timothy Dwight Hobart. Hobart, possibly influenced by his son who wished to run the JA, tried to dissuade Montie from staying. Among other things, they put him on a bronc that bucked him off and they rode off and left Montie. Snooks Sparks was a young cowboy at the time and says that Montie received all of the toughest horses.
Hobart had run White Deer Land and Cattle Company and mainly knew how to sell land. He did not know a lot about the cattle business. He had plans to sell the JA as he had sold the land of White Deer Land and Cattle Company.
Some loyal cowboys told Montie that Hobart was trying to get rid of him. Montie returned to England and obtained power of attorney from the eight heirs to the ranch. When he returned, he took over the ranch.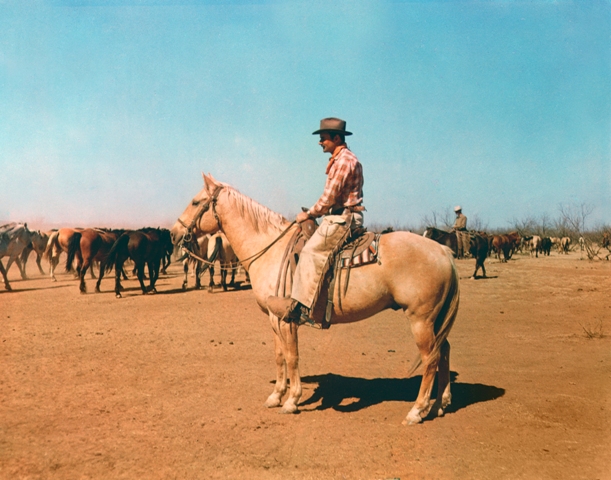 Montie Ritchie
He assumed the management in 1935. There have been many, many changes here since then. Mostly for the worse, I often think. These wagons for instance, were for months on end, the home and sole source of supply for our cow wagon crew. Today they are curiosities." The wagon quit going out in 1954 according to Jiggs Mann.
Ritchie bragged of "a fourth generation who loves the ranch and knows most of its secret places and will likely carry on the family tradition, my daughter Cornelia Wadsworth." Since then, there is a fifth generation, Andrew Bivins.
Ritchie told of the heart of the JA, when he said, "No body or organization succeeds alone in this world so the fact that we are able this year to celebrate our 100th birthday is due in large part to the wonderful, loyal men and women, leaders who worked for and with us, men of imagination, men of skill, men of courage, men who braved the elements day or night, men who took pride in their crafts, loved their horses and understood their cattle and were eager to enhance the reputation of the JA and proud to be a part."
When M. H. W. Ritchie took over the ranch, it was in terrible shape. Not only was the country in the midst of a depression, but the drought of the '30's was well under way. His grandmother's estate placed a large debt load on the ranch. Hobart had recommended selling the ranch, but Montie weathered through, getting the ranch out of debt, buying out the other heirs and caring for the land.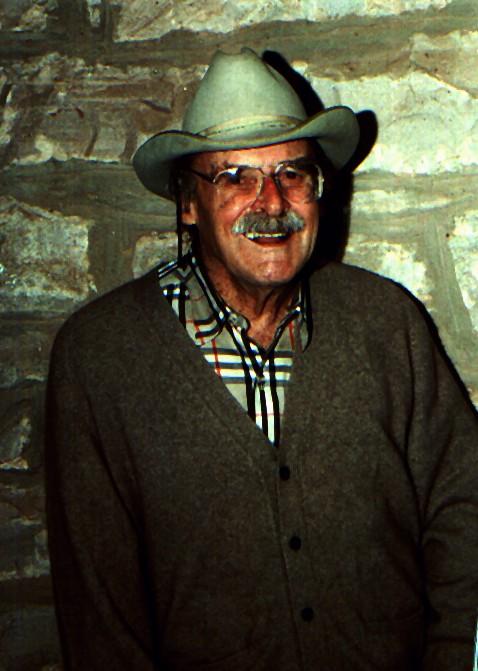 Montie Ritchie
1910-1999
Over the years, Montie Ritchie sold off parts of the original ranch and purchased a Colorado Ranch between Colorado Springs and Denver. He also purchased a spectacular art collection which has been donated to the Dixon Gallery and Gardens in Memphis, Tennessee. Read about this in a presentation made by Alex Hunt.
Montie retired in 1993 and his daughter Ninia formed a partnership with Jay O'Brien of Amarillo. Still running the Texas and Colorado ranches, now with the addition of Ninia's son Andrew Bivins and Jay's partner Dale Smith (now managing partner of the ranch), they have changed the cow herd to a predominantly black herd with Angus and Charolais bulls and running yearlings. In addition, they are continuing Montie's tradition of improving the asset.
Together, everyone is working toward the mission statement: To enhance the value of the ranch while producing a sustainable profit.
The family is continuing Montie's tradition of improving the asset. Andrew and the JA Ranch was just recognized by Texas Parks and Wildlife Deparment as a winner of the 2013 Lone Star Land Steward Award. See Video. Begun in 1996 by the TPWD Private Lands Advisory Committee, the Lone Star Land Steward Awards program objectives are to recognize private landowners for excellence in habitat management and wildlife conservation on their lands, publicize the best examples of sound natural resource management practices, encourage youth education and participation in promoting responsible habitat management and improved ecosystem health, promote long-term conservation of unique natural and cultural resources, promote ecosystem awareness and acknowledge the best conservation practices in the state's ecological regions, enhance relationships between private landowners and Texas natural resource agencies, and illustrate the important role of private landowners in the future of Texas natural resources.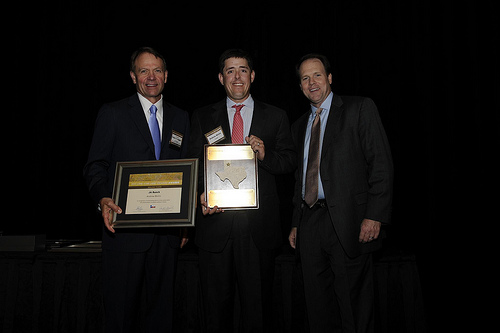 Ralph Duggins, Andrew Bivins and Carter Smith with the Lone Star Land Steward Award.
The reasons for the award were Andrews work restoring the plains through grubbing of juniper and mesquite and contolled burns. Andrew and Dale Smith have been instrumental in establishing the Texas Panhandle Prescribed Burn Association. However, even Andrew's great stewardship has not brought green grass during the drought.
JA is not just cattle, horses, land or cowboys. A long history of families have made the JA. The importance of families is evidenced in JA's bookkeeper, Jennifer Fagan. Jennifer grew up at the XL and is a great part of the ranches.org group's success.
Current Crew
Randal Gates - Foreman (806) 944-5212
Ron McCurdy--Headquarters
Drestyn Bell--Graham Place
Mike Crump--Plains Corral Camp
Lane Oles- Headquarters
Les Freeland - Excavator Operator
John Anderson - Colorado Ranch Foreman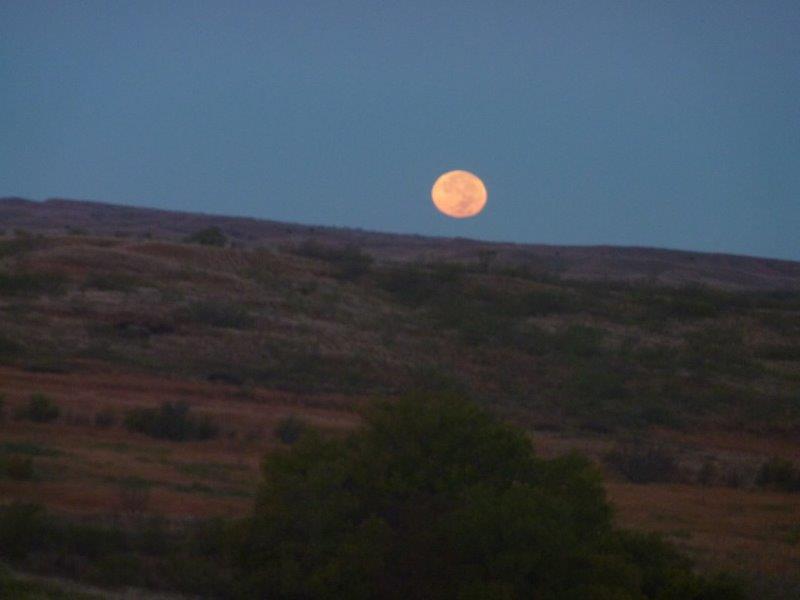 Cowboy memories: Tom Blasingame, Snooks Sparks, Jiggs Mann, Fish Wilson, Bob Bullock on John Rhea.
Life Magazine Cover of C. H. Long

Description of ranch by Jay O'Brien
Panhandle Plains Historical Blog "Cowboys, Broncos, and the JA Ranch"
Companion Website: To view an extensive collection of photographs illustrating the JA past and present or to contact us, please visit our website at www.JARanch.org or JA-Ranch.htm
JA Links:
Handbook of Texas Online: JA Ranch
Handbook of Texas Online: Paloduro
The Adair's Glenveagh Castle in Ireland
1908 Photographs of JA by

About Tom Blasingame
Red River War
Montie Ritchie, the JA and Montie's Art
Palo Duro Canyon State Park
Texas Panhandle Prescribed Burn Association
JA Buffalo Herd
Texas Parks and Wildlife Magazine - March 2011
Caprock Canyons State Park

Museums
Panhandle Plains Historical Museum Canyon, TX
Southwest Collection/Special Collections Library Lubbock, TX
The National Ranching Heritage Center Lubbock, TX
Armstrong County Museum Claude, TX
Saints' Roost Museum Clarendon, TX

Click on brand to link to another ranch's information.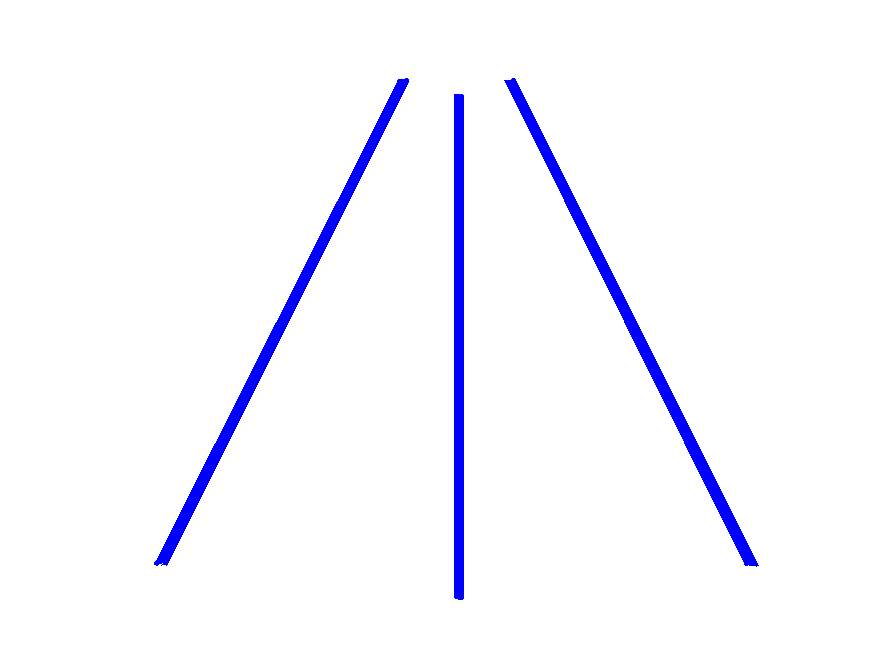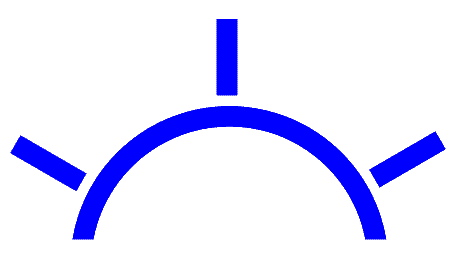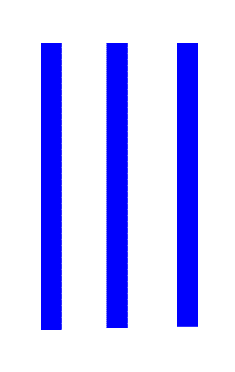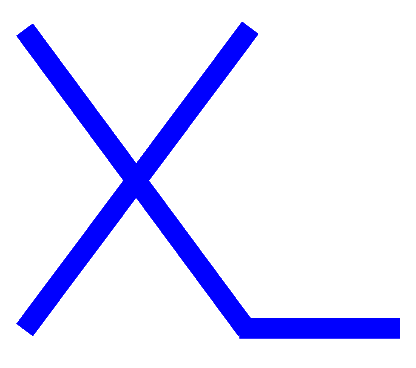 Return to Ranches.org