In January of 1915, Cornelia Adair departed from the JA Ranch, rode the trains to New York, and sailed January 30 for Liverpool, England on the R.M.S. Lusitania. On May 7, 1915, the Lusitania was sunk by a German U-Boat torpedo, killing 1,200. "Poor Lusitania,," Cornelia lamented to her ranch manager Timothy Dwight Hobart.<![if !supportFootnotes]>[1]<![endif]> The Lusitania incident brought worldwide condemnation against the Germans and urged the US further toward joining the war effort. Cornelia, accustomed to making an Atlantic crossing annually, was heartbroken at being kept so long from the ranch. She noted that it was especially hard for women to obtain permission to make the crossing. Still, as she wrote in April of 1917, she was "thrilled by America's declaration of war" which she considered overdue. She expected the Wadsworth men, in keeping with family tradition, would be joining up forthwith.
At this time, Cornelia's grandson, Montgomery Harrison Wadsworth Ritchie, was a four- or five-year-old residing in England. He remembers of that period once disturbing his grandmother Cornelia in her room, catching her without her wig on. His transgression earned him a spanking with her hairbrush.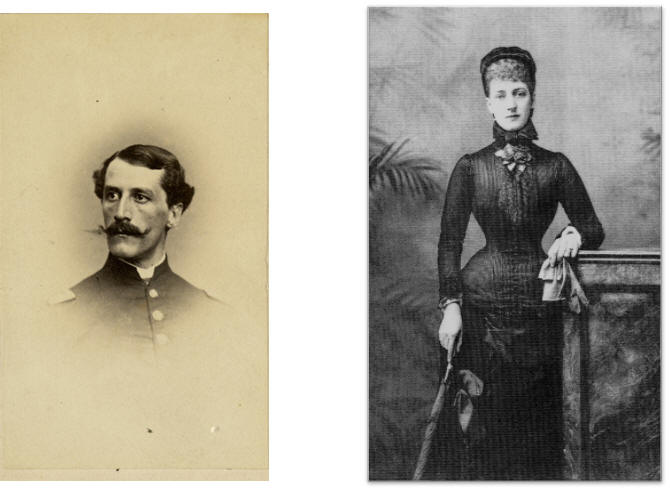 Montgomery Ritchie, ca. 1864 and Cornelia Ritchie
Cornelia was a great lady, a Wadsworth of the illustrious Geneseo, New York family, her father the Civil War General James Samuel Wadsworth. In 1857, Cornelia married Montgomery Ritchie, who died of illness incurred during his Civil War service. They had two sons, the younger of whom, James Wadsworth Richie, known as Jack, would be father to Montie Ritchie, whom we are honoring here this evening.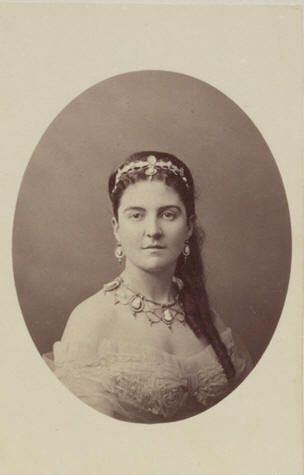 Cornelia Adair, Bellegrove, Ireland
The widow Cornelia Ritchie remarried, choosing an Irish landowner and financier John George Adair. The couple moved between Ireland and the US. John Adair and Cornelia made an adventurous tour of the western prairies in 1874, and subsequently Adair was introduced to Charles Goodnight. The great JA Ranch was formed in 1877, when Goodnight and Adair signed what would be a lucrative contract. Demonstrating her mettle, Cornelia rode horseback along with her husband and Goodnight from Colorado to the new ranch. This partnership would start a trend in British investment in Panhandle ranches and of English financial adventurers in the western cattlelands, though these were seldom as successful as was the JA. There's an old joke: He came to Texas with just 20 pence to his name—after five years he had a million dollars debt—what a country!
When Adair died in 1885, Cornelia continued the partnership with Goodnight. And when Goodnight wished to end the partnership, Cornelia continued on as owner of the JA—heavily involved in its management—until she died in 1921.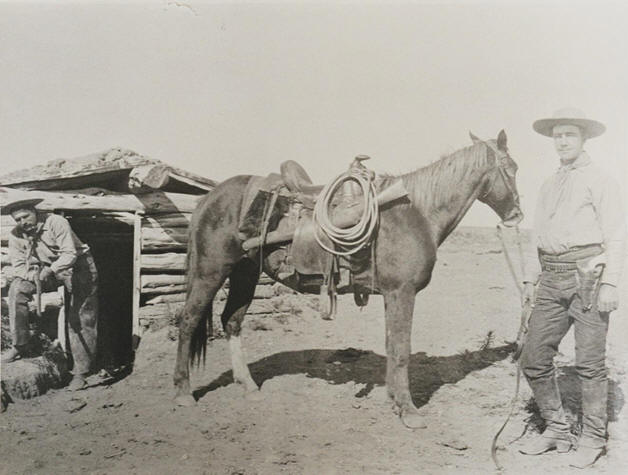 Jack Ritchie and Dick Walsh, ca. 1887
Cornelia's son Jack came to the JA in 1887, working as a cowboy under Goodnight's management. This was at the apex of the JAs vast acreage.<![if !supportFootnotes]>[2]<![endif]> Jack soon became the manager of the Tule division, but by 1888 Goodnight demoted him for drinking and gambling with the cowboys—Jack soon left the ranch, probably at his mother's urging. He went to work as a horse-buyer for the New York Police, purchasing JA horses.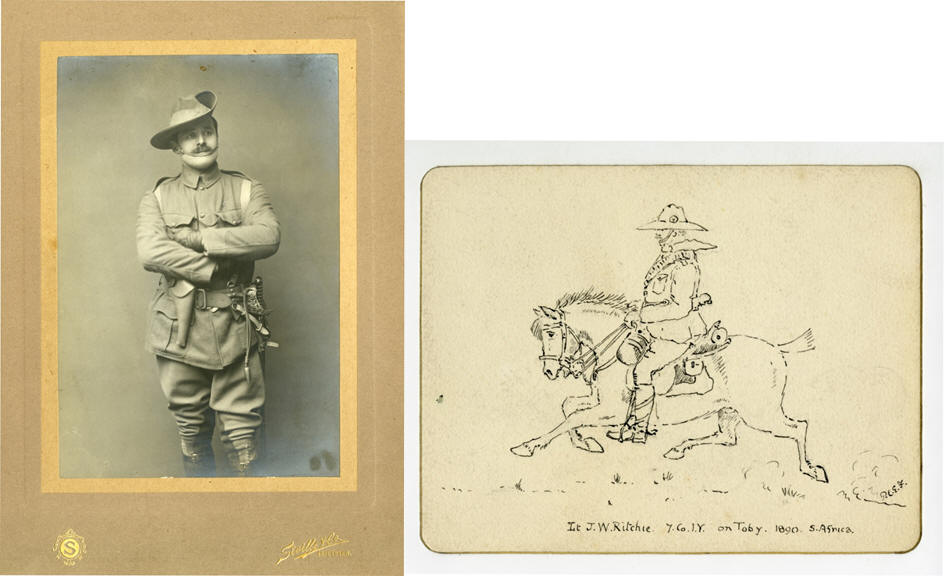 Jack Ritchie, Boer War, 1899
At the outbreak of the Boer War, he fought with the Leicester Yeomanry in South Africa, where reportedly the skills with horses practiced at the JA served him well. Jack died young, in fact just a few years after his mother, in 1924. But his nostalgia about his time at the JA influenced his son Montie (born 1910), who said "It was my father's stories that did it. He talked to me about the ranch for 12 years. He said the time spent there was the happiest of his life."<![if !supportFootnotes]>[3]<![endif]>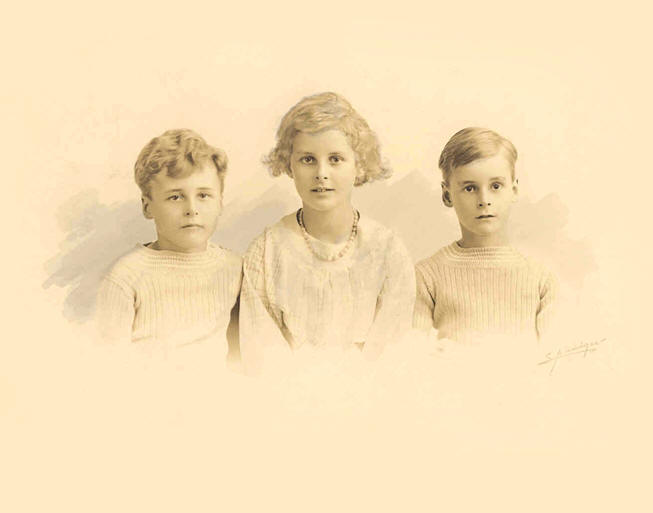 Richard, Gabrielle and Montgomery H. W. Ritchie, 1919
Freshly graduated from Cambridge University, where he studied English Literature and History, Montie Ritchie came to the ranch in the autumn of 1932. At this time, the complex estate of Cornelia had not been settled because the economic and environmental conditions of the Panhandle prevented the sale of the JA. Ritchie came to learn ranch work and out of curiosity born of his father's stories. But as one of Cornelia' heirs, he was also most interested in the condition of ranch and the situation of his legacy. He later explained, "As heirs, we had received nothing in payment of our legacies during the ten years since my grandmother's death, and I wanted to see our inheritance. I was looking for adventure too, just as my father had. I found it. I really can't say that I came to stay on that first trip. Who knows? I think I was more interested in seeing the ranch because of what my father had told me."<![if !supportFootnotes]>[4]<![endif]> Along with his elder sister Gabrielle and younger brother Dick, Montie was a one of the beneficiaries of Cornelia Adair's estate.
Following Cornelia's death in 1921, it was abundantly clear from her will and its codicils that she expected that the sale of the JA would be necessary to satisfy the legacies of her estate. She was, at the time of her death, cash poor, in debt, and—where the JA was concerned—facing a poor cattle and land market.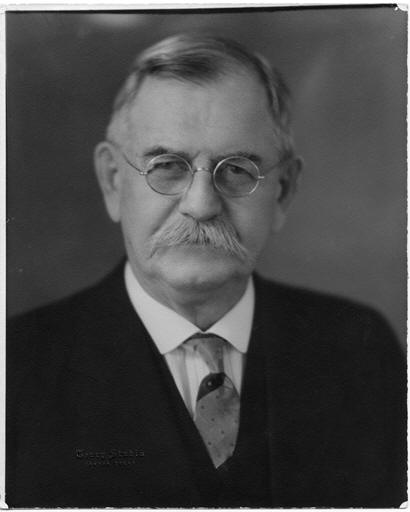 T. D. Hobart, ca. 1920
As dictated in her will, her estate was managed by T. D. Hobart, manager of the JA since 1915, and Henry Coke, Cornelia's long-time Dallas lawyer. From 1921 to 1935, these men entertained many offers for the JA while overseeing the ranch's management. From the outset, conditions for a sale were terrible -- depression and dust bowl of course made them far worse. One report shows cattle prices slid from $45 a head for calves in 1929 to $27.25 in 1930<![if !supportFootnotes]>[5]<![endif]>--and kept sliding. Hobart and Coke explained to Cornelia's inheritors that they must wait for more favorable financial conditions unless they would accept a far reduced figure.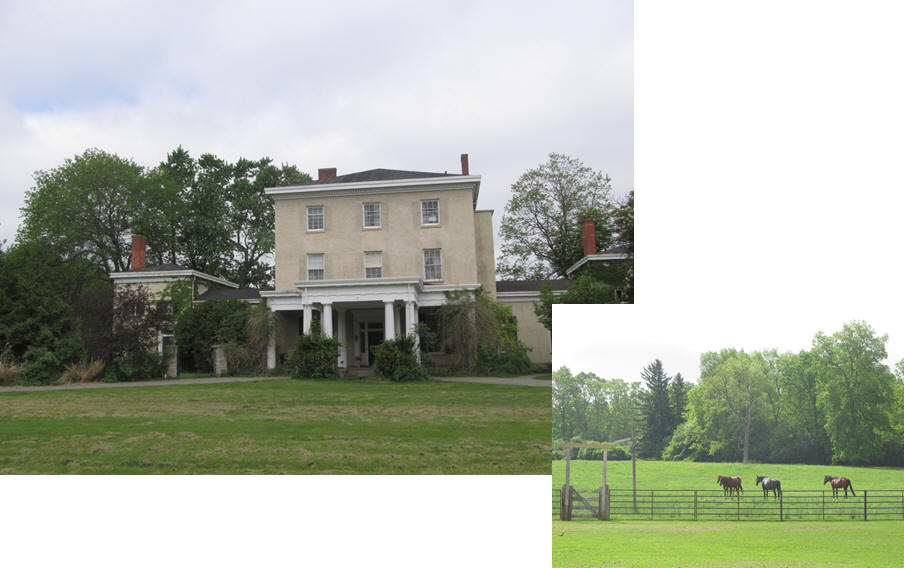 Hartford House, Geneseo, NY
Having arranged with T. D. Hobart a job working on the ranch, Ritchie took his time getting there. Following his steamship passage, he went to Geneseo to visit his New York cousins. Cousin James W. Wadsworth Jr. was particularly important. He had been Cornelia's manager on the JA from 1911-1915, leaving the ranch to become US Senator from New York, a position he held until 1927 (US Congress, 1933-51). Ritchie later remarked that over time, Wadsworth "gave me a lot of advice on how I should approach the ranch, what I should do, and how I should behave, all of which was very valuable to me."<![if !supportFootnotes]>[6]<![endif]>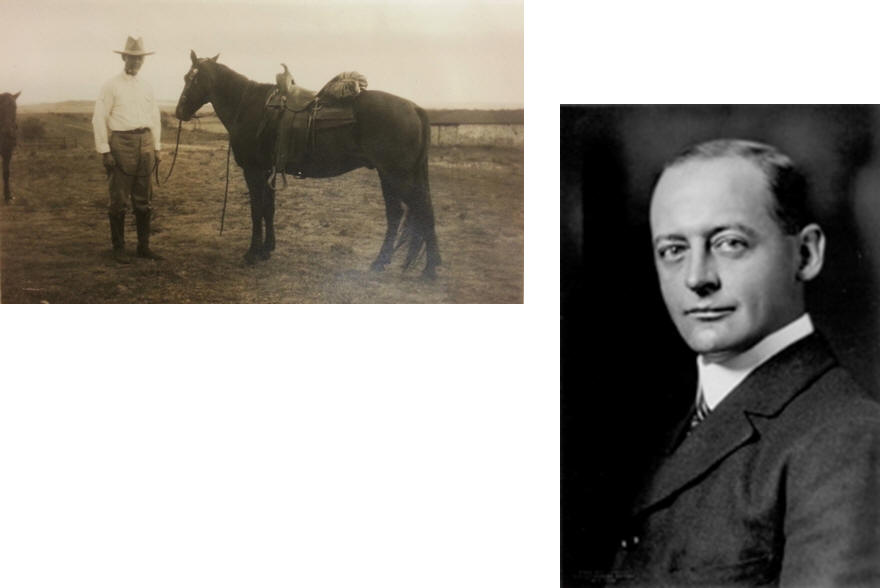 James Wolcott Wadsworth, Jr.
This relationship was indeed essential, as James Wadsworth advised Ritchie throughout the several years long period of Ritchie's assumption of control of the JA. Departing New York, Ritchie's voyage then proceeded by steamship across the Great Lakes and then by train to Pampa. Here, met by Hobart, the two took the train to Panhandle, then drove to the JA.
Expecting a job riding the range and working cattle, Montie Ritchie—joined by his brother Dick—was disappointed to be handed a shovel and put to work digging a waterline from Mitchel Peak to the headquarters. "Eventually," Ritchie says, he and Snooks Sparks were assigned riding jobs. Ritchie says he was given a "pretty fancy mount of horses" that were given to "buck and run off"—"the idea seemed to be to rather discourage me staying with the wagon and punching cows, which is want I wanted to do." He did stick with it over several years, remarking, "over the years I learned much more about operating the ranch and taking care of the cattle and maintaining the improvement of the ranch from the cowboys that I associated with and made great friends with, than I did with the people who were actually supposed to be managing the ranch. I think it was a very valuable starter made."<![if !supportFootnotes]>[7]<![endif]>

JA Ranch Headquarters, 1903
Henry Coke died in 1932, leaving Hobart as sole executor. Ritchie was soon convinced that Hobart, now in his late 70s, was mismanaging the operation. He was particularly critical of Hobart's superintendent, Clinton Henry, who became Ritchie's nemesis. In particular, bolstered in his views by James Wadsworth, Montie was convinced that the ranch had been mismanaged in many ways, notably that too many of the JA's cows had been sold off, the horse herd was too large, and the feed bills were wildly out of keeping with herd size and market prices on feed. The administrative fees paid to Hobart also seemed extravagant. Meanwhile, of course, in the depths of the depression and drought, conditions were wretched; Ritchie described "cattle . . . selling at $3 per calf, and the cattle market . . . ruined."<![if !supportFootnotes]>[8]<![endif]> Moreover, as a matter of political principle, Hobart had refused to take advantage of New Deal agricultural programs like the Drought Cattle Purchase Program.<![if !supportFootnotes]>[9]<![endif]>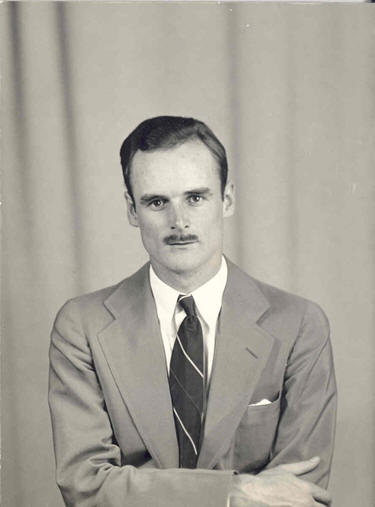 Montgomery H. W. Ritchie, 1937
Clinton Henry had refused Ritchie's request to examine the ranch's account books, and Ritchie resorted to espionage. He befriended the book keeper, a woman named Lottie Lane, and she would periodically slip him the key for his afterhours accounting work. I don't know anything about Lottie Lane, but her notes to young Montie suggest devotion to the handsome Englishman. She related contents of letters dictated to her by Hobart. She reported on visitors to the ranch, what cattle they bought, what land they were considering. She reported on Clinton Henry's management difficulties and his increasing paranoia about Ritchie's presence. The ranch was the scene of a great palace intrigue. Soon enough, Ritchie's forensic accounting endeavors were discovered. Lottie Lane was fired, Hobart ordered Ritchie off the ranch.
For three years, then, Montie Ritchie based himself in Dallas and Fort Worth hotels and waged a campaign against Hobart and Henry. As the depression and drought continued, feeling pressured from all quarters, Hobart pushed for the sale of the ranch. Montie Ritchie, understandably, was concerned that Hobart would sell out too cheaply just to be done with it. Ritchie consulted with James Wadsworth, by this time a member of the US House of Representatives, as well lawyers George Thompson of Fort Worth and William Greenough of New York, about discouraging an ill-advised sale.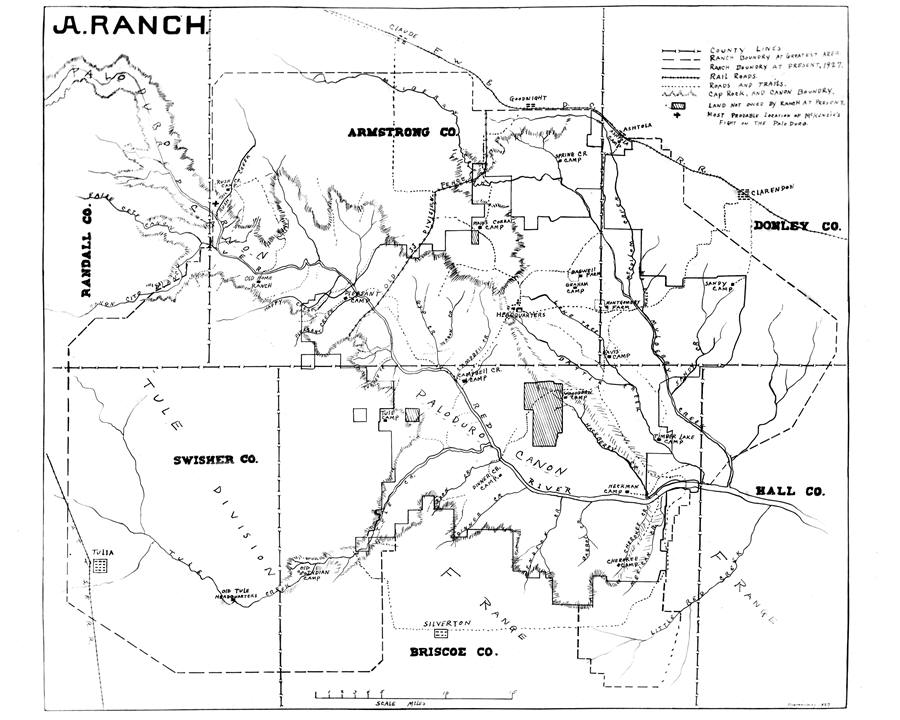 James Wadsworth, agreeing with Montie Ritchie's assessment of poor management and high administrators' fees instructed Ritchie to return to England to win the legatees to his side. Wadsworth, fearing a messy family lawsuit, took a not-so-subtle approach to influencing the situation from his position in Congress. In April 1933, as Montie Ritchie returned to England to enlist the British legacies, Representative Wadsworth sent Hobart a telegram, which read: "Monty consulted me before sailing. Please forgive my impertinence but in view of program of Administration relating to currency etc etc, think better go slow with any sale of land or cattle. These are strenuous times. Regards"—JWW.<![if !supportFootnotes]>[10]<![endif]> The Congressman thus perhaps bought his second-cousin some time.
Importantly, Ritchie succeeded in gaining power of attorney from most of the English legatees, including his mother and siblings and Thomas Renshaw, Cornelia's godson. He then returned to Fort Worth to resume his campaign. He continued to take council from James Wadsworth, as well as from former JA employee J. W. Kent. He made continual requests of Hobart for information on the ranch—as he was entitled to do—hoping to tire the old fellow out. At one point, he even met with Hobart and made an initially successful negotiation of convincing Hobart to retire. But Hobart seemed determined to continue his efforts to sell the JA and settle the estate.
In a letter to his Aunt dated July 10, 1933, Ritchie reported: "I hear disturbing news from the Ranch, that some of the hands are getting out of control of Clinton Henry in a demonstration in our favour. Brother Dick reports that the general feeling out on the Ranch and in the neighborhood is very strongly pro-legatee, which is very comforting news." Also, as he continued, "I have received a letter written anonymously warning me not to come near the ranch, which is quite exciting and makes the whole thing sound rather like a western novel, but I am not inclined to set much store by it."<![if !supportFootnotes]>[11]<![endif]>
Still, Hobart stubbornly held out. In fact, in January 1935, Hobart wrote J. Evetts Haley—then at the University of Texas in Austin—asking the young historian to write "a short article" on the history of the JA for the "Saturday Evening Post or some other magazine" that might gain "the attention of the public and indirectly help us with a sale to the government."<![if !supportFootnotes]>[12]<![endif]> This sale obviously never occurred, but the episode seems to underline Hobart's desperation as Ritchie was pressuring Hobart. In the end, T. D. Hobart died of pneumonia, dust pneumonia it would seem, in May of 1935 at age 80.
Hobart's family blamed Montie Ritchie for Hobart's death and asked him not to come to the funeral. Clinton Henry barred Ritchie from the ranch and made an attempt to have himself declared Estate administrator.<![if !supportFootnotes]>[13]<![endif]> Armed with powers of attorney and good legal help, though, Montie was victorious, declared temporary trustee of the Adair estate in September 1935.<![if !supportFootnotes]>[14]<![endif]>

But he could not rest. Ritchie had to act decisively, for the ranch was heavily in debt, the situation dire. Ranch employees and former employees who had been loyal to Hobart remained opposed to Montie, hoping to see him fail, notably Clinton Henry. In Henry's correspondence with J. Evetts Haley, also a Hobart loyalist, the two never refer to Montie by name, using euphemisms like "the young hopefull."<![if !supportFootnotes]>[15]<![endif]> Haley sought to gain intelligence for a would-be buyer of the ranch during this vulnerable period. Before proceeding to ask for detailed information about land and cattle, quantities and conditions, Haley explained that he'd been solicited by parties whom he's "anxious" to accommodate, and remarked, "I understand that the young scissorsbill still hasn't made bond. Do you think the place could be bought for $2,000,000 now, including the cattle?"<![if !supportFootnotes]>[16]<![endif]> Henry reports back to Haley, whether or not "the Englishman . . . will make any special effort to sell the property right now I am unable to say, but it is my opinion that he will want to demonstrate his ability as a big cow man for awhile before he tryes to sell."<![if !supportFootnotes]>[17]<![endif]>
---
<![endif]>