2004 With JA, Steagall and Friends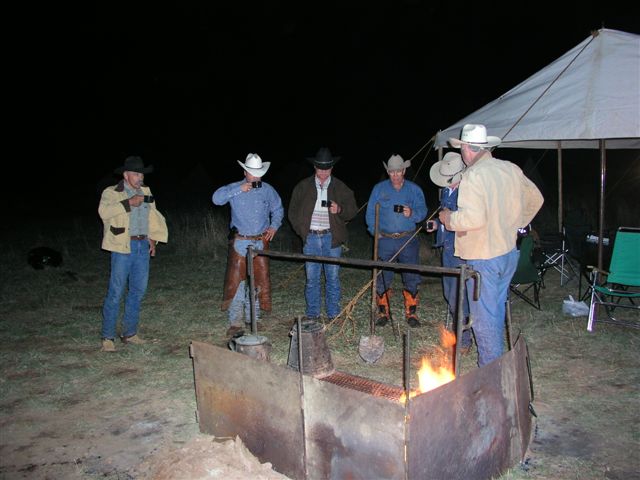 Morning comes early.
2004 brought a new campsite on Mulberry creek. We worked Boggy, Cedar Hills and Tate Arroyo. Tate Arroyo and Cedar Hills are big pastures and one day we didn't finish until mid afternoon.
It is hard to describe the experience of staying with the wagon with a crew of great men. There are songs, stories and laughter, but mostly there is an appreciation of being alive and part of something bigger than words can describe.
Buck Reams' bisquits make it worth getting up in the morning.

Trailing the herd in big country.
Ken Stielow rode Stylish the first day.
Trailing along Mulberry
Bob Hollowell brought the experience.
Red and Bob
Read "Vanishing Breed" by Red Steagall. See the 2003 gather or 2005 gather.
Cowboy Corner Conversations by Red Steagall has a wonderful interview with Jiggs Mann, as well as many other men. Several of them remember the old JA. We fully recommend it. It and many other great books or CD's of poetry and music are available at http://www.redsteagall.com/. We strongly recommend this book and Ride For the Brand, but you can't go wrong with any of his work.
Hunting: Colorado wildlife, Spring Turkey Hunt, Quail hunting, mule deer & aoudad hunting, elk in Colorado, Texas Wildlife; Swamp hunting, White-tailed deer.
Click on brand to link to another ranch's information.