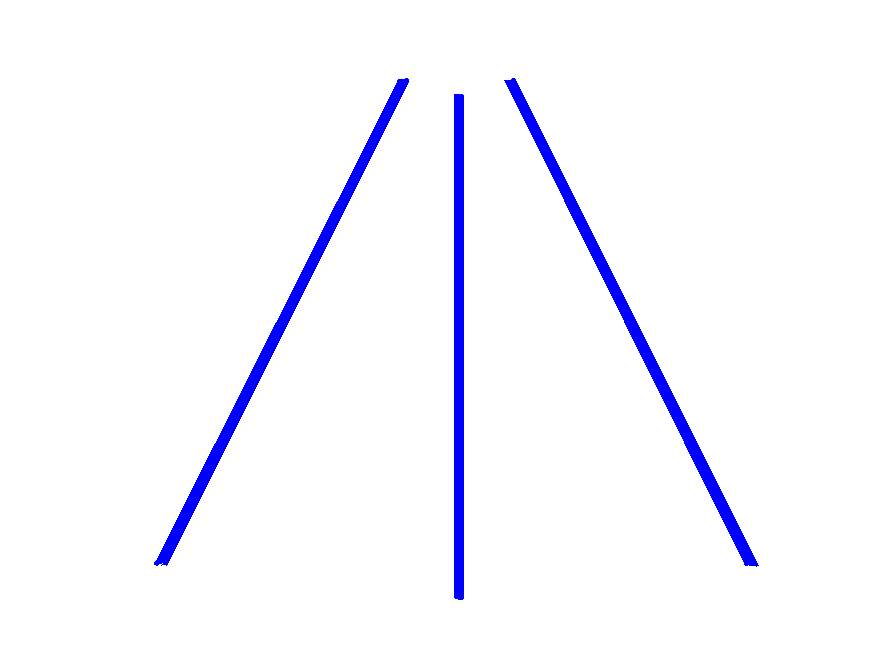 Turkey Track Ranch
Turkey Track Ranch awarded the 2016 Environmental Stewardship Award for Region IV
The Turkey Track Ranch is proud to be honored by this award when the industry is composed of so many ranchers whose lives are devoted to caring for the land. The Coble and Whittenburg families have worked to improve the ranch for 100 years. The work they have done has provided wildlife habitat second to none in the Texas Panhandle and the ranch is a winter home for bald eagles who enjoy the great numbers of waterfowl. NRCS, Texas Parks and Wildlife and US Fish and Wildlife have all contributed expertise in the stewardship of this ranch. Read about the award and see the video by clicking Here. Click this link to see photos taken of the ranch for the award.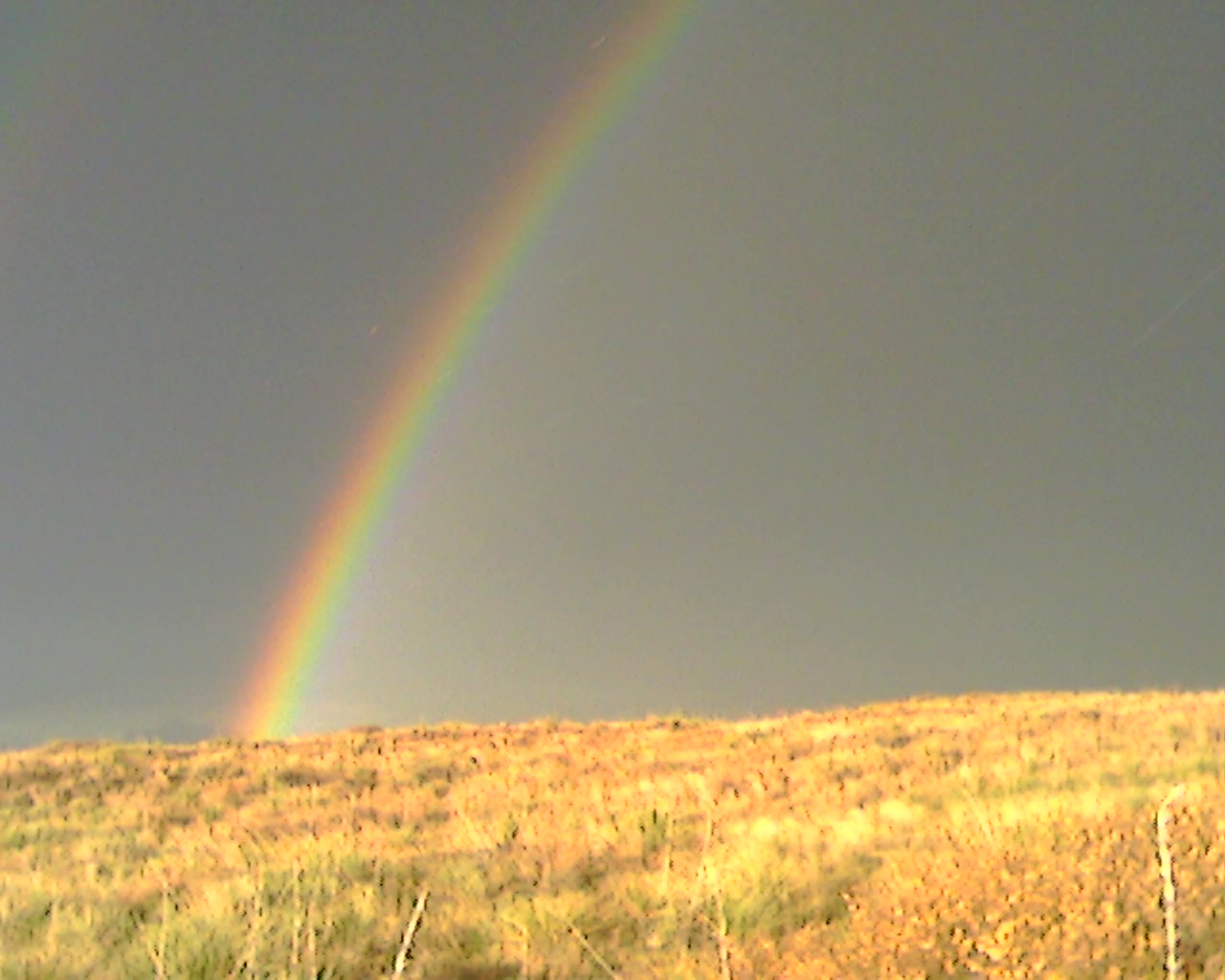 The Turkey Track Ranch was first established by R. McNulty from Colorado soon after 1878, making it one of the first five ranches in the Texas Panhandle. His brand was called the Turkey Track or Rafter I, In 1881, he sold the ranch to C.W. Word in 1881. In 1883, Mr. Word sold the Turkey Track Ranch located in Hansford and Hutchinson Counties to the English syndicate Hansford Land & Cattle run by J.M. Coburn of Scotland. Hansford also purchased Thomas S. Bugbee's Quarter Circle T's located near Adobe Walls for $350,000, as well as William E. Anderson's Scissors Ranch near Adobe Walls. By 1890, Hansford Land & Cattle owned 85,000 acres and leased 350,000 and had an average head count of 30,000 head.
| | |
| --- | --- |
| | |
| Photos by Jennifer Brownlee | |
| Branson Brownlee ropes while the crew works calves at the Rodriguez pens | |
In 1903, Kansas bankers Charlie Patton, H.B. Price and James Hyde purchased the Turkey Track Ranch. Patton bought out his partners in 1910.
William Thomas Coble, born October 18, 1875, in Douglas County Missouri, moved to Henrietta, Tx. to live with his grandfather T.M. Johnson when he was twelve after the loss of his parents. Working for fifteen dollars a month as a farmhand, he saved $400 and purchased 25 two year old steers in 1896. He grazed these on the Canadian River and, after selling them, he had $1,000 including his wages from being a farmhand.
In 1899, he moved to the Panhandle and purchased 45 cattle from Charles Goodnight and ran them on a leased section ten miles north of Clarendon near the RO Ranch. With the profit from them, he purchased four sections of land for $1.50. Coble's land was on Moore's Creek adjacent to the Turkey Track Ranch. He continued to buy up neighboring land from nesters and other settlers.
In 1905, Coble married Maud Roberts, daughter of the former foreman of the Four Sixes Ranch. They were the first couple to be married in the new white frame First Baptist Church in Amarillo and they made their home on North Julian Boulevard. They had a son who died at a young age and a daughter, Catherine Elizabeth.
In 1916, Coble purchased the original Turkey Track headquarters south of Gruver and began using the Turkey Track brand. He continued to expand the Turkey Track Ranch and also purchased farm land in Hockley County.
Coble was president of Texas and Southwestern Cattle Raisers from 1934-36 (his grandson JA Whittenburg III was president in 1976-78).
Catherine Coble married J. A. Whittenburg II. He was the son of George Whittenburg and the grandson of James Andrew Whittenburg. JA Whittenburg owned the MM ranch at Plemons, south of the Turkey Track.
Today, the Turkey Track Ranch, located in Hutchinson County, offers one of the greatest varieties of wildlife in Texas. With miles of live water, it has great populations of quail, dove, white tail deer, mule deer, pronghorn antelope, duck, geese and, of course, wild turkeys.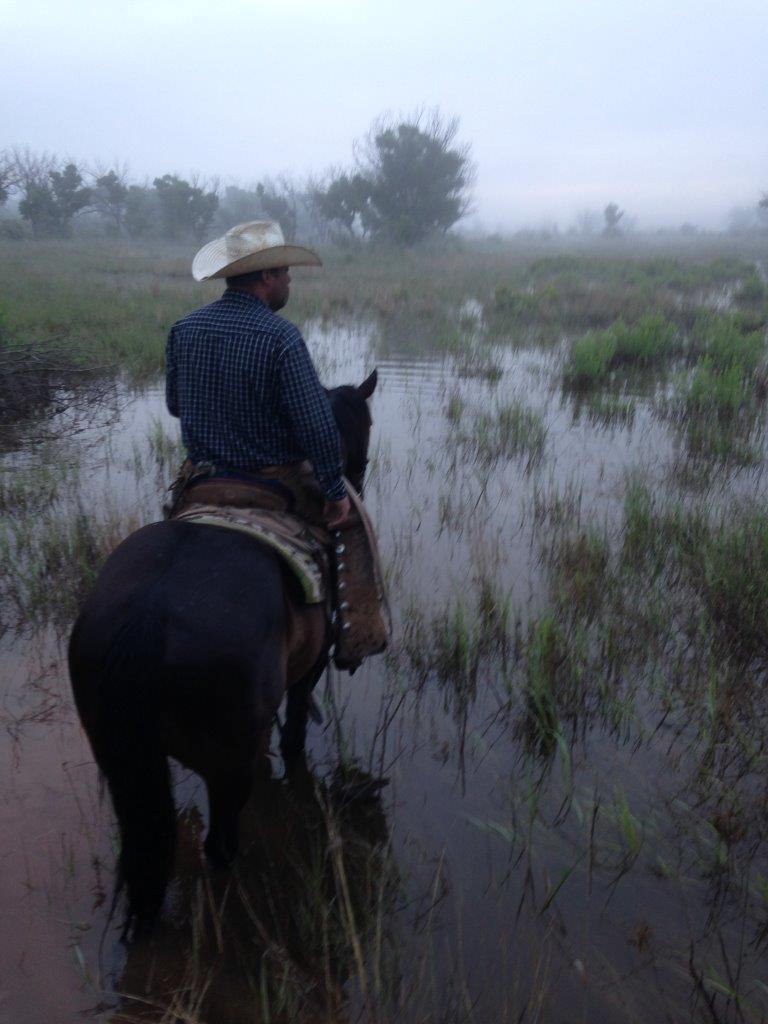 After a severe drought, the Turkey Track responded quickly to 2014 rains and in 2015, water was abundant.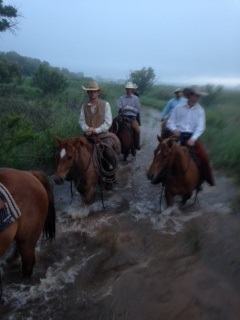 Today, the descendants of J. A. Whittenburg II still own the ranch, which is operated in conjunction with Adobe Walls Cattle Company, a partnership of Jay O'Brien and Dale Smith. Josh Hawkins is the foreman and Vance Brownlee works from Dixon.
Cory Kendrick, Turkey Track Foreman Josh Hawkins and Dale Smith.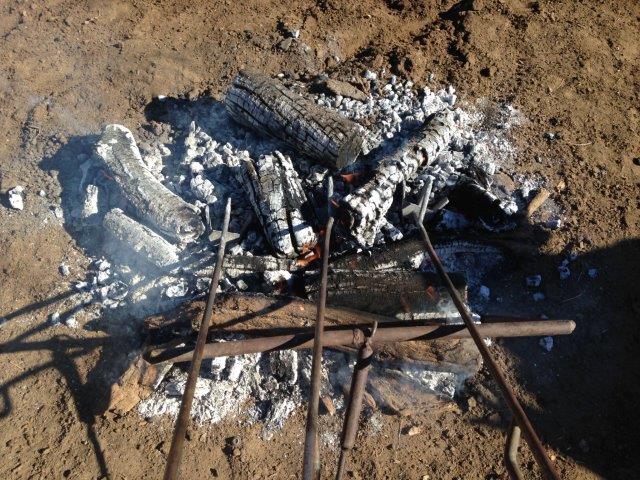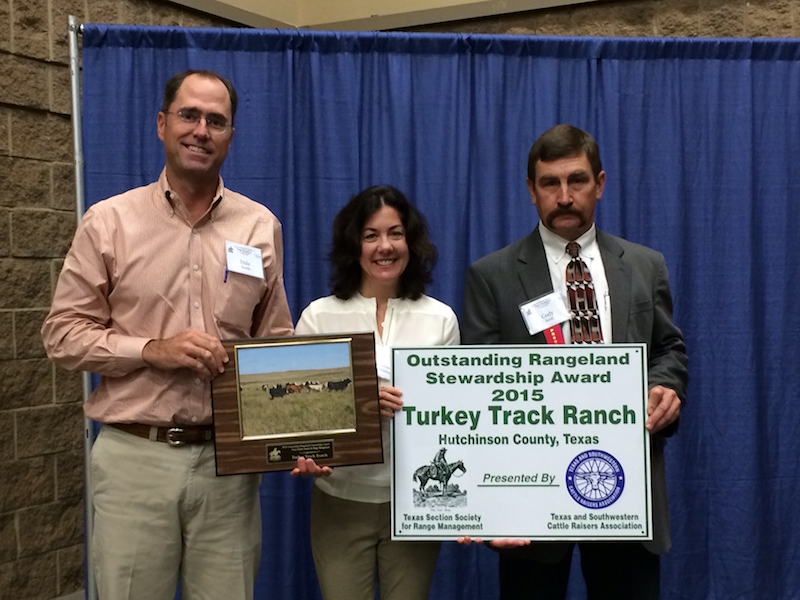 The Turkey Track Ranch is honored by the 2015 Outstanding Rangeland Steward Award. The award is the highest stewardship honor from TSCRA and the Texas Section, Society for Range Management. Society for Range Management pdf explains why Turkey Track was honored.
The Turkey Track employees several methods to monitor grass conditions. Transects and grass clipping squares show the vast difference between early summer of 2013 and 2015.
During the drought the meadows continued to provide good grass, until they burned in 2014
below you see the photo points three months after the fire and 18 months after.
Interesting links: Billy Dixon, Battle of Adobe Walls, Adobe Walls, Replicating Dixon's shot
Click on brand to link to another ranch's information.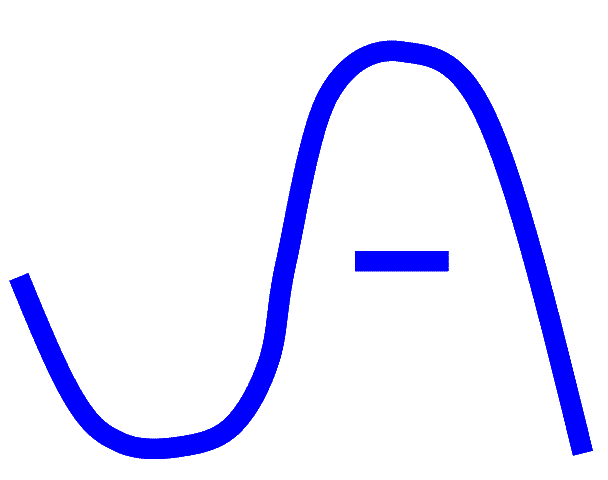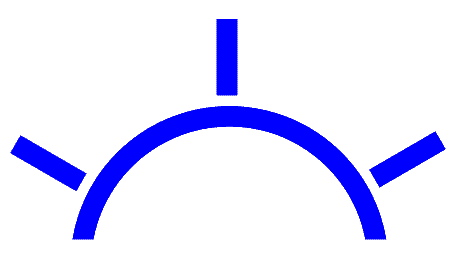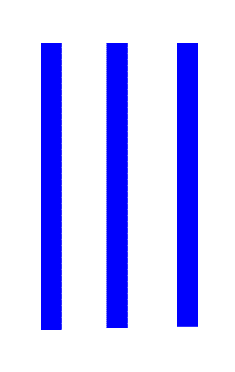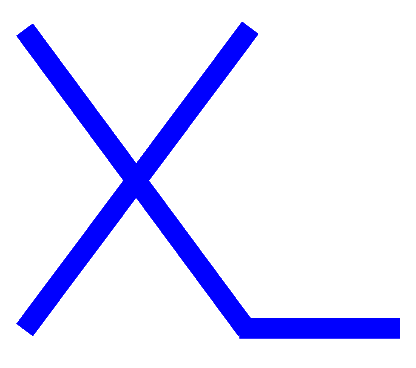 Return to Ranches.org