JA Remuda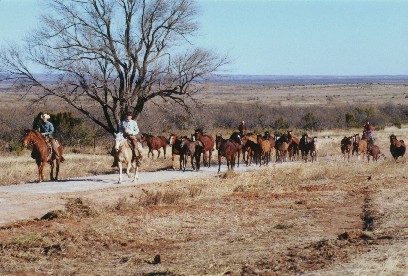 Founded by John Adair and Charles Goodnight, the JA has produced mares since Mrs. Adair insisted on bay mares over 100 years ago. The herd is not bay anymore, but the quality is there.
Stylish 2000 disposition hides the fact that he is as cowy as he is gentle. Photograph by Guy de Galard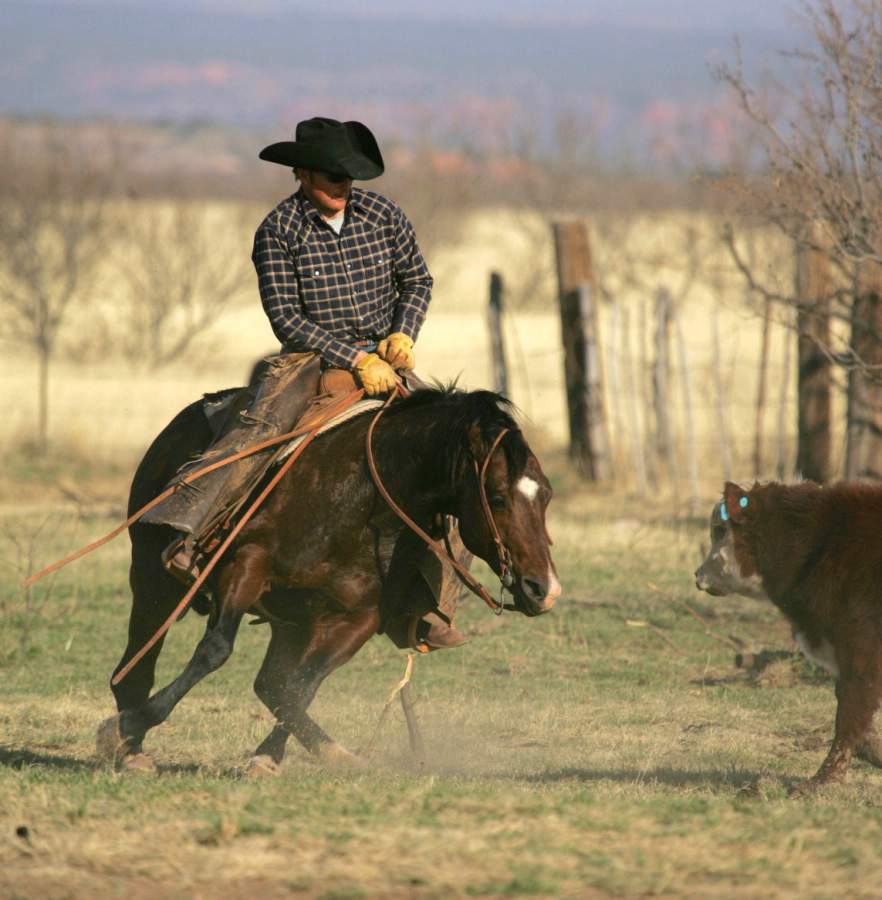 The 1908 JA Remuda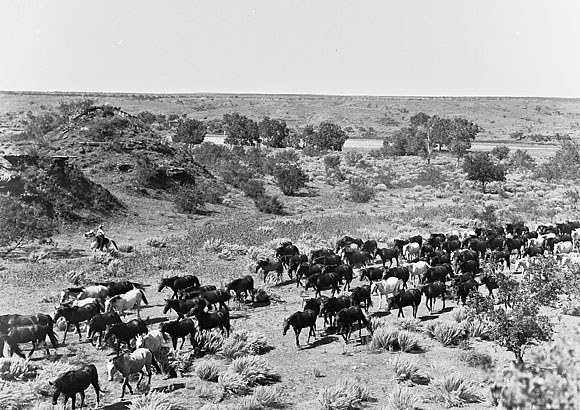 1908 Remuda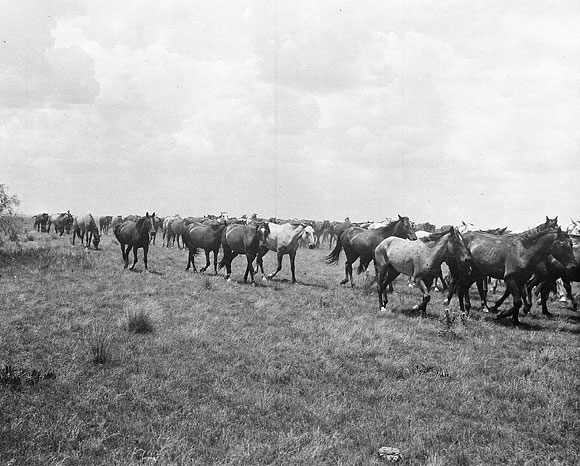 One of the earliest reputation studs was John Wilkins, an own son of Peter McCue. At the ranch, he was called Moore Horse because he was purchased from a man named Moore. Jim Jennings, AQHA executive director of publications, wrote in "America's Horse", "The horse John Wilkins was by Peter McCue and he could really run. But the walls of his hooves were so thin he couldn't keep shoes on, so his time on the track was limited. He was eventually sold to the JA Ranch in the Texas Panhandle and then purchased by Walter Hancock. Hancock took his saddle to the JA, intending to ride John Wilkins home, a distance of approximately 100 miles. But when he saw the condition of the horse's feet, he decided to lead him the entire distance. Among the great horses sired by John Wilkins is the legendary Joe Hancock."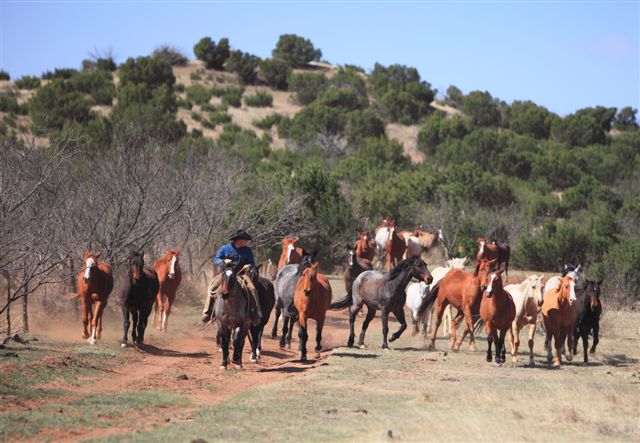 part of the 2009 remuda A.C. Kandler
There was also Texas Chief out of Traveler. Texas Chief produced some of the best handling horses, but was a little cold backed.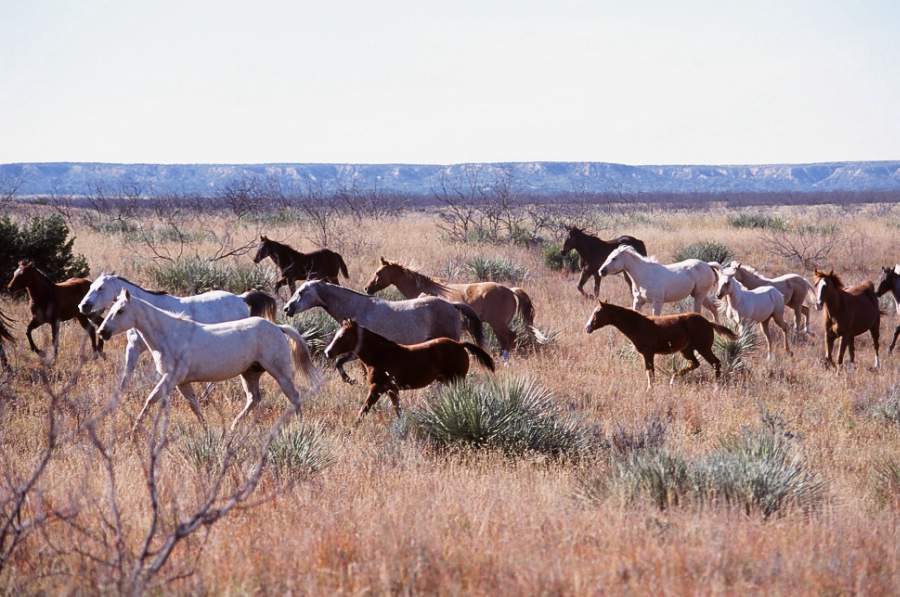 Photograph by Guy de Galard
A couple of generations later (1932) the JA produced Driftwood. He is known as a great performance horse and foundation sire.
In 1953, Montie Ritchie bought a stud named Claude. One of his colts, Senor George, sired before Montie bought him, went on to win the following:
| | | | |
| --- | --- | --- | --- |
| YEAR | TYPE | DESCRIPTION | |
| 1970 | OPEN | NCHA FINALS | 4th PLACE |
| 1968 | OPEN | HIGH POINT CUTTING | 1st PLACE |
| 1968 | OPEN | NCHA WORLD CHAMPION | 2nd PLACE |
| 1966 | OPEN | HIGH POINT CUTTING | 6th PLACE |
| 1961 | OPEN | HIGH POINT CUTTING STALLION | 1st PLACE |
| 1961 | OPEN | NCHA WORLD CHAMPION | 1st PLACE |
| 1960 | OPEN | SUPERIOR CUTTING | |
| 1960 | OPEN | NCHA WORLD CHAMPION | 4th PLACE |
| 1958 | OPEN | AQHA CHAMPION | |
| 1958 | OPEN | PERFORMANCE REGISTER OF MERIT | |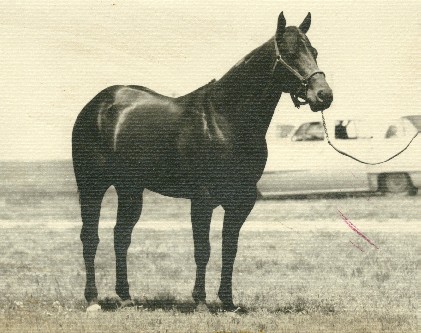 Claude is a significant part of the foundation of the present remuda; however, concentration has remained on producing ranch horses, not recreation, roping, cutting or show. Roping and cutting are important, but ranch work is done horseback and the horses must be trustworthy and know cattle. Also, due to our large, rough pastures, JA does not feel that the present move to small horses is in our interest. We are blessed with large mares and stout geldings.
Studs used in the past were Two Eyed Quick Tip, Special Cash, Favorite Hand, Claude and Huff 'N Puff. Special Cash, for example, was shown only four times and had four halter wins with one reserve. Huff 'N Puff had three halter wins out of three shows and one grand.
The JA mare herd has been exposed to some great studs over the years. Most recently, we sold Freckles Tivio Bar due to the number of mares with his blood. The ranch bought Tip Some Gin, a '99 own son of Tanquery Gin and Red Jolly Rancher, a red roan that is 25% Blue Valentine.

Billy was riding Tim Some Gin and had him ready to show. However, in May of 2002, he got into some wire and we ended up losing him. We had only a handful of colts from his first breeding and we are heartbroken. In 2002, we bred his mares to Good Waltzn Jones.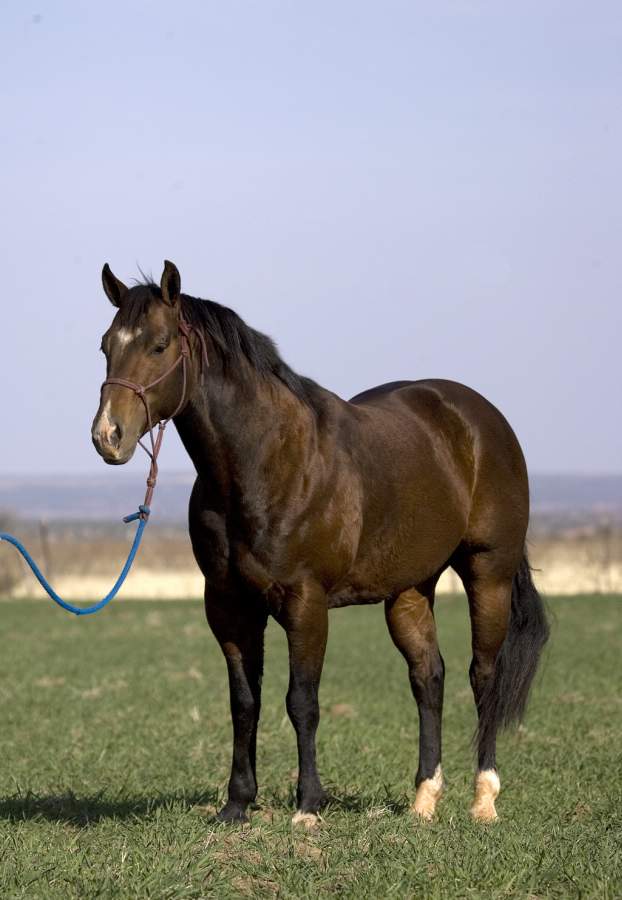 As sad as we are to have lost Tipsome, in July, we came across Stylish 2000. This bay stallion is an own son to Doc's Stylish Oak out of an own daughter of Peppy San Badger. We weren't going to hurry into replacing Tipsome, but this is a one in 2000 type of horse. Stylish 2000 has been entered into some Ranch Cutting Horse Association events and, for a young horse, with only ranch training, he and Billy had great success.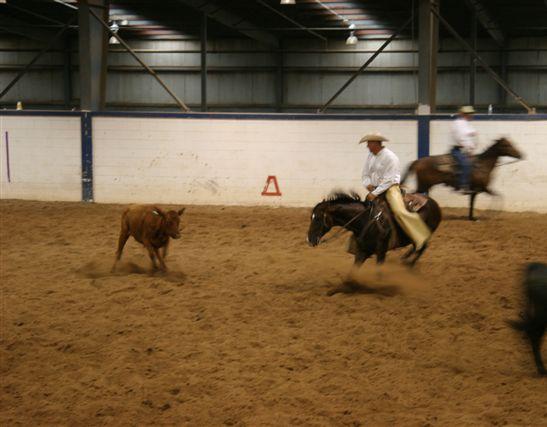 Stylish 2000 cutting with Billy holding on.
We had bred Tipsome to some good mares. There was one owned by Ken Stielow that produced a beautiful buckskip stud. He agreed to sell us Texas Gin, and at two, he promised to be even better than Tipsome. Unfortunately, like his father he got into some wire and we lost him. We have a couple of fillies out of him.
Today, we are breeding to Stylish and trading out breedings with Good Walzin' Jones, a freckles bred horse that throws gentle, cowy colts. JA has the right to breed to TRR Iron Leo, a well built, gentle blue roan. He will be started in 2008 and we will see if he is as promising as his papers and his confirmation indicates.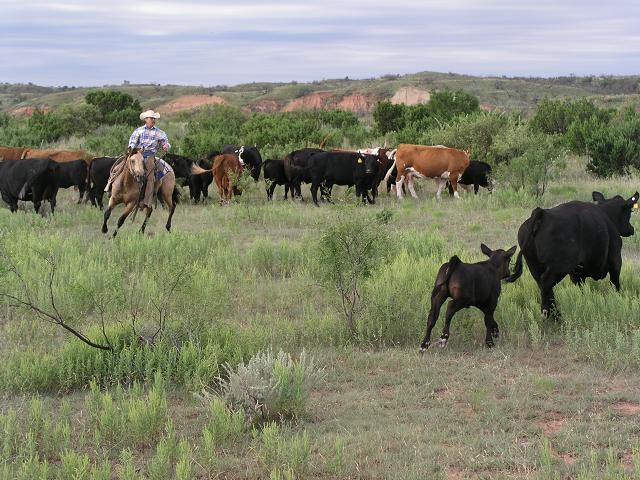 Texas Gin in the herd.
JA blood produced Driftwood, Senor George and thousands of great ranch horses. It never focused on line breeding or capitalizing on just one line. JA's goal is to produce great working ranch horses with lots of cattle sense.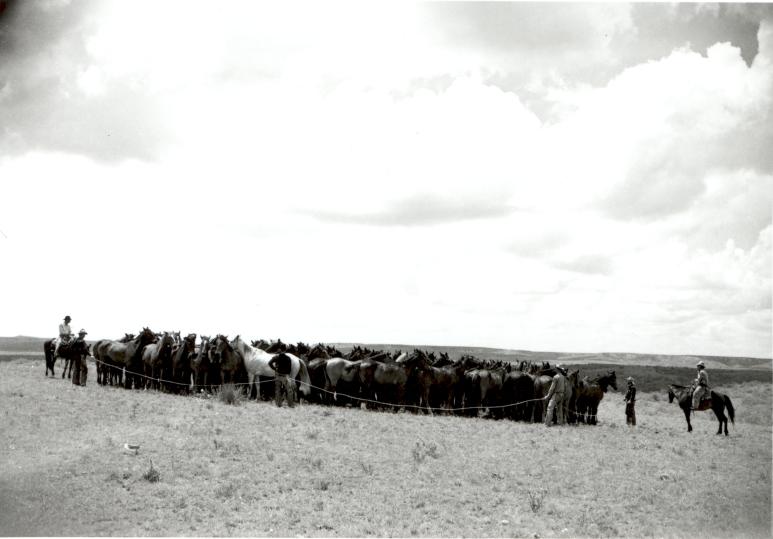 The JA no longer uses rope corrals, but we still produce great ranch horses.
We believe that hybrid vigor works in horses, just as it works in cattle. We also can not afford to break horses as the original JA hands did. We are breeding and training our horses to have a lot of cow sense, while having a disposition suitable for anyone. To this end, we have instituted an annual horse clinic.
Steve Etycheson, ranch foreman, is in charge of the remuda. Periodically, the ranch sells fillies, horse colts and well trained ranch horses-- Horses For Sale Sample JA Bloodlines will give you an idea of the breeding on the colts. At a price, any horse we own is for sale. The ranch also does limited outside breeding. If you have an interest, you can call him at (806) 944-5268 or e-mail Steve Etycheson.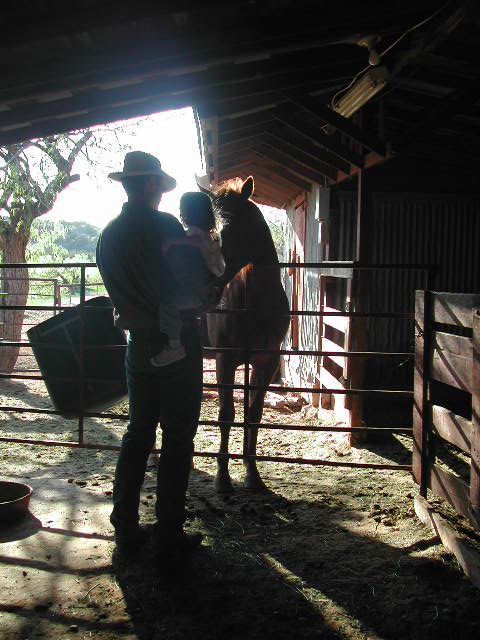 Clara Smith is the JA's newest horse fancier.
In order to allow us to continue improving our remuda, the JA exchanges fillies and studs with the O'Brien Ranch Remuda.
Return to Ranches.org