Will O'Brien

8/9/1878 2/9/1945

Will O'Brien at the XIT

Not much is known about Will O'Brien before he moved to the Texas Panhandle to work for the XIT in the latter part of the 19th century.

It is known that his father was Benjamin Franklin O'Brien from central Texas (who, it is said died in jail from the bloody flux from helping a friend get his son out of jail, was shot crossing a river by a sheriff or recaptured some horses stolen from him and then was arrested for having other people's horses with them) and his Grandfather George Washington O'Brien ran a lumber yard in Arkansas. Will was born in Granbury, Hood County, Texas on August 9, 1878. His mother was Sarah Josephine Fitzgerald. She later married a man named Brownlee and moved to Hereford, Texas.

He worked for the XIT for a year and when he quit, he had eleven of his monthly $30 pay checks. Will's son John says that after a year, he looked out of the bunkhouse and saw a string of wagons filled with barbed wire and fencing supplies. He decided it was time to move on.
| | |
| --- | --- |
| | XIT Cowboys at Buffalo Srpings: Waller Smith, Homer Malkey, Jose Crone, Joe Gardner, R.C. Tribble, Jess Morris, John Holder, Jake Pitts, Jobe Pitts, Will O'Brien, Moll Shaw, Earl Johnson |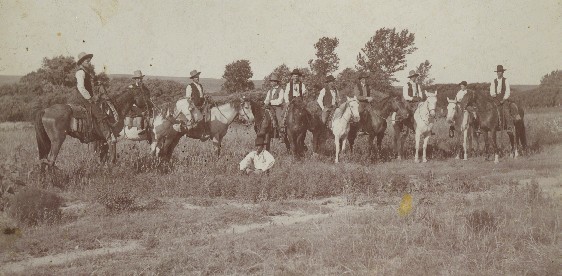 Will is the one in the dark shirt 4th from the right.
With the stake earned as a cowboy for XIT, Will started trading and breaking horses. In the spring of 1902, he helped his brother George W. O'Brien and George's family move from Greer County, Oklahoma, to Texas. George planned to lease some state land between Lubbock and Brownfield, but found it so dry, there was no grass. While Will was bringing the chuck wagon and herd, George took his family to Hart, where he purchased a section of land.
George's family enjoyed a beautiful spring and fall, but blizzards kept blowing in that winter. It was so cold that half of their cattle froze to death that winter. George moved to the territory of New Mexico near Carlsbad. George returned to live in Hereford and ranch near Hart and Dimmitt in 1908.
In 1903, Will was living in Hollis, Oklahoma. He married Exie Eagan when she graduated from high school in Magnum, sold his buggy, bought a wagon and moved to a small homestead near Dimmitt, Texas. When he wasn't farming, Will would be buying calves from adjacent farms. When he had enough, he would drive them to Amarillo to sell them. Exie was often left alone at the house for weeks.
| | |
| --- | --- |
| | |
| Will and one of Exie's brothers in Magnum, Oklahoma. | Will and Exie |
In the four years that they lived in Castro County, Cecil and Hazel were born. In 1907, the O'Briens moved to a ranch that Will brought north west of Hereford. They lived there until 1917. Pete, Fay, Ethel and Johnny were born on the Hereford ranch.
In addition to ranching, O'Brien ran a real estate business in Hereford.
Johnny weighed just over three pounds when he was born on July 17, 1917. The next week, they loaded him and their furniture and moved to 1926 Tyler in Amarillo where Will and Exie lived until their deaths. In Amarillo, Betty Jane and Peggy were born.
The years between 1907 and 1917 must have been very profitable for Will as, in 1917, he not only purchased the National Bank of Commerce and moved to Amarillo, but he also started purchasing the 80,000 acre White Lakes ranch 40 miles N.E. of Roswell, New Mexico. Around the same time, he purchased a herd of cattle with the Moon Brand and renamed the New Mexico ranch, the Moon Ranch. His great grandson, Blake, is still using the moon brand.
The New Mexico ranch was first put together as a promotion vehicle. Ads were placed throughout the Midwest and trainloads of farmers were brought in and told that this semi arid country could make ideal farmland. Photographs from the irrigated Pecos Valley, near Roswell, were shown to demonstrate that the land could produce lush crops. The town of Elkins dried up as rapidly as it grew and the farmers, left broke.
Will O'Brien started leasing the ranch in 1911 to pasture steers. At that time, it was just one big pasture. Some of it was still owned by one large Midwestern land organization until the 1950's when the O'Brien family finally purchased it. It had cost the farmers $5 per acre when other ranch land in the area was worth fifty cents per acre.
The ranch was originally watered from large playa lakes and a couple of windmills. O'Brien tried to find windmill water all over the ranch, but could not. O'Brien went into the playas and dug large tanks. Pipes allowed the water from the playas to be drained into the tanks after the silt settled. The tanks provided year around water even in the '50's when it never did rain.
True to normal O'Brien style, the ranch house was fairly simple. The foreman lived in the front where there were two bedrooms and a kitchen with a long pine table capable of seating 18-20. In back their was a large room called The O'Brien Room that had four double bunk beds and a living area. Between the front and back area was a small office with a roll top desk and a bathroom.

Water came from a dirt tank about a half mile to the north of the house. Drinking water came from a cistern.

There was a generator which was run for an hour or two in the evening. In the fifties, a television set was added to the O'Brien Room.

The nearest telephone was in Elkins, ten miles away.

The photograph is of Bob Watson, Peggy's son, during the fifties.

The ranch was sold in 1972. The house burned down sometime in the '90's.
Will died early in 1945. His obituary said, "Mr. O'Brien first entered the oil business in Wichita Falls. He was among the first operators in the Panhandle fields. But he was mainly a cattleman. he had operated in the Panhandle and eastern New Mexico since 1902 and often ran as many as 20,000 head of cattle."
Will at home: 1926 Tyler in Amarillo
Tough
When asked if Will was tough, Peggy said that he was no one people wanted to get on the wrong side of. When asked if Will was critical, Peggy first said not particularly, but when Johnny said he was, Peggy agreed, saying he wasn't too critical of her.
Johnny remembered that when he was 14 (1931 during the depression), he was playing in the irrigated garden one day building dams and piddling around in the water. Will came home, saw him and jumped on him for not doing something worthwhile. Johnny said that Will chewed him out for about thirty minutes for wasting his time.
Another time, Johnny had been working at the oil field and went into a restaurant in Stinnett with a bunch of oil field workers to have lunch. Will came in and saw Johnny with his hat on and told him in terms that Johnny never forgot that Will never wanted to see him wearing his hat inside again.
During the depression, they were working moving a tank battery on the Nabob lease near LeFors one hot summer day. They quit after working since early morning and a man who was newly hired, leaned against a building, wiped his forehead and said, "Boy, I'm tired."
Will O'Brien said, "Your not as tired as you are going to be. Start walking to town. I won't have anyone work for me who is tired by noon," and paid him off.
Johnny and Peggy said that Will was hard on Cecil. Cecil worked collecting notes for the bank, earning $100 per month. Years later, Johnny went to Will and asked him why he was always so hard on Cecil, pointing out that $100 was not enough to live on with a wife and a child. The next day, Will deeded the land that he and Exie had homesteaded near Dimmitt. This is where Cecil and Hazel had been born.
Mary O'Brien, Bryce Beard, Will and Flap (Exie) at Grand Canyon
Kind
Will at Christmas, 1938

Will's frontier toughness must have been offset by other attributes because all of his children adored him and spoke of him with reverence.

Will O'Brien had eight children, but, during the depression, he often brought home young boys who were on their own and down on their luck. The O'Brien table always had room for more at dinner table. One of the young boys lived with the O'Briens for several years in Hereford.
Another obituary said, "Bill O'Brien helped so many and he went to the rescue of so many of his friends when they were desperate. Friendship to him was something very deep and wonderful. He was a friend.
And he was the kind of a man who, when he heard of any good movement for the community, came hustling around to volunteer to do his part. He didn't have to be hunted up, rooted out. Yes, they threw away the mould when they moulded Bill O'Brien."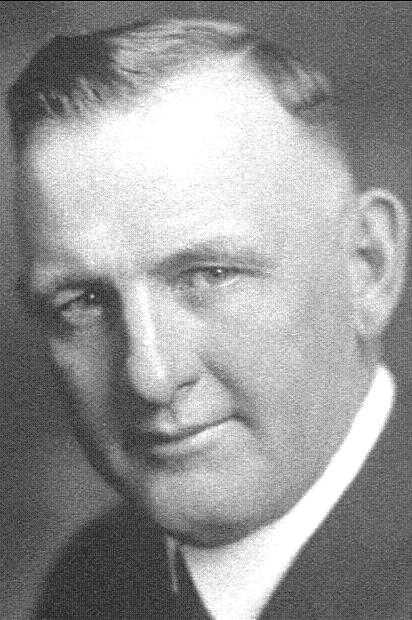 Will O'Brien was president of Panhandle Producers & Royalty Owners from 1942-44.
Nabob
Nabob was the family oil company that drilled mostly in Gray County. The most successful field was east of Lefors.
In 1944, Nabob drilled either seven or eleven dry holes. They had been on the verge of coming back, but these dry holes kept them from doing really well. Peggy said Will was always optimistic. She remembers driving him to a location after his stroke and his talking about how the well they were drilling was going to be a gusher.
Will partnered with John Sullivan in various oil ventures. Sullivan said that he could see the oil under the ground.
Cattle
There was a headline in the Kansas City paper about Will O'Brien buying 10,000 cattle saying, "This is sure to break him."
In 1933, Will tried to buy the JA Ranch, which was for sale before Montie Ritchie took back control of the ranch. He told Johnny that he thought he could pay for the ranch with the strays that he gathered off the ranch. He traveled east several times to raise money to buy the ranch, but times were just too tough and he couldn't raise the money.
Johnny said Will went broke several times. When he paid off all of the depositors in the bank, he though he would be able to make it back like he had before. He never thought the depression would hold him down so long.
Stories
During prohibition, Will went to a bankers convention in New York City. He was visiting with some other bankers and someone suggested that they should get some whiskey. Will offered to go get some and went to the Chase Manhattan and asked to see the president. His secretary asked Will if he had an appointment and Will said he didn't but to tell the president that Will O'Brien from Amarillo was there to see him. She did and the president received O'Brien asking what he could do for him. Will told him that all he needed was the name of his bootlegger. The two men started visiting and Chase's president went out with the out of town bankers for the evening.
Eagan Genealogy, O'Brien Genealogy
Home-Ranches.org