Exie Ethel Eagan O'Brien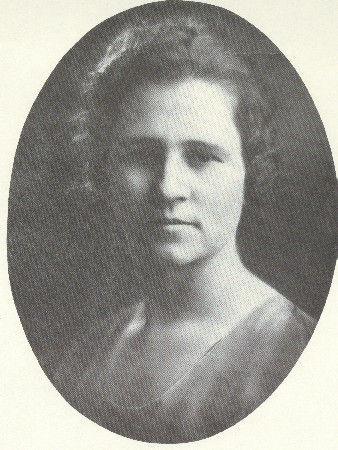 Exie Eagan O'Brien, born October 15, 1884 in Randolph, Missouri, and died November 29, 1977 in Amarillo, Texas, was a proud member of the Daughters of the American Revolution, tracing her family back through her mothers father John Jones, his father George Ball and his father Joseph Dameron, who fought in the revolution.
At 91, Exie wrote down her memories:
My Father, William Carroll Eagan, was the youngest of four children. He was born July 24, 1840, in Randolph County, Missouri.
My mother was Minerva Caroline Dameron, in North Carolina on June 4, 1846. The family moved to Missouri when mother was very young. I do not know where my mother and father met, but they were married January 24, 1867, at home by Rev. Noah Richardson
They lived in the one large room log house where my father had been born, and they reared a family of ten children. Later they moved the house to a grove of beautiful trees to the north into a clump of beautiful trees, dug a new cistern, built barns, and added two more large rooms to the house. The new room, along with the upstairs, was 20 by 18 feet. They also added a large summer kitchen and storage room known as the smoke-house. The original room was 24 feet square. When it was moved, the walls were plastered on the inside and weather-boarded on the outside.
The first six children were boys, the oldest lived to be 25 years old; the third one died at an early age. Then we four girls came along, only to lose another child, a girl, about two years of age. The three of them were buried in Missouri.
We girls spent a lot of time in the meadow where the old cistern was, and occasionally, we would dare to peek into this refuge for snakes. In this meadow, we would make hats and trains from he large leaves of trees that grew around the ponds. There were wild blackberries, dew berries and goose berries. Then there was a large orchard of apples, peaches and cherries, all of which we picked to make preserves for winter use.
When summer was over and school started, we walked through this meadow, under a barbed wire fence, into the neighbor's pasture, which was full of trees. We followed a path to the creek. As there was no bridge, we would walk over on the trunk of a tree that had been felled for that purpose. The woods were full of small wild animals and snakes. In the spring, it was especially pretty with all kinds of flowers.
| | |
| --- | --- |
| | Mr. & Mrs. W. C. Eagan and daughters Exie, Bessie, Mertie Pearl and Bertha |
We girls learned to play the boys' games, such as marbles and mumble-peg. I think the swing was the most exciting of all. We would swing very high, trying to touch the limbs of another tree with our toes. We rode horseback and walked on high stilts, and we would make the foot-piece on the stilts so high we would have to get onto the fence stile to get started. We used the stile steps to get on our horses, as we did ride side-saddle that many years ago. We also rode bareback sometimes, and the three older girls would get on a horse, knowing full well that when we came to the first steep hill, the one on the back would slip off.
The old gray mare we had would often come into the yard, as "the grass was greener there." She never could understand why us kids had to be around and would chase us away. If we should decide to tease her, we would always make sure we could get back into the house before she could catch up with us; but she never failed to back her ears and give us a chase.
Our special tree to climb and play house, we called the "ante-apple tree." Bertha, our youngest sister, was four years younger than I and played alone quite a lot of the time. She had an imaginary friend called "Chummer." Bertha enjoyed this so much that as long as she lived (83 years), she never forgot this friend.
People have said: "Life was simpler then." Not so, to my way of thinking and I have lived in the late 1800's and now seventy-five years in the 1900's. I now come to the most important and demanding part of our time: work. Especially on a farm, work is the most time consuming thing, and it must be done if you are to survive. There is a time to plat, to reap, to clean the hen-house and set the hens and while the chickens hatch and grow, we must pick the geese for feathers to make feather beds and pillows. Then we must slop the hogs, milk the cows, butcher the hogs, make sausage and cure the meat for winter use. Father always had a few sheep to shear in the spring. Then we would wash the wool and spin it into thread, because it was time to make blankets and quilts for winter.
As we girls grew older, we learned to dress the chickens on Saturday afternoon for our Sunday dinner while mother would make the pies and cakes, for there would be company along with the Minister (Methodist, of course) who always liked fried chicken.
Monday was wash day, and mother made her own soap. Few people these days would know how to make lye soap. We had to build a V-shaped hopper, then fill the hopper with ashes, and in order to make the lye, pour water through. Then you take the lye, add grease and water and boil until it thickens, let cool and cut into bars.
My mother and father never knew what it was like to have a vacation; there was never enough time on this farm to complete everything that needed to be done. My mother would work nights in order to finish knitting a pair of socks or fix some garment that was needed the next day. She often had to walk the floor to keep awake while finishing a pair of socks.
At the time my parents decided to leave Missouri, there were four boys left. A. W. (Lannie) decided to stay in Missouri; the other three came with us. Land in Missouri was scarce and the price very high. Father had heard of a place in Greer County, Oklahoma (at that time known as "The Indian Territory"). They sold our home that had been the birth-place of my father and his ten children. This must have been a hard decision for father to make, and only for our sake, he decided to make this change.
Now I will try to tell about our little trek from Missouri to Greer County, Oklahoma. We left this old home on the 11th day of September by covered wagon, Eugene's buggy and several extra horses, and arrived at our destination on the 20th day of October, 1899. A cousin, Jim Johnson came along with his horse.
We stopped two days near Kansas City, visiting a cousin, Johnnie Eagan. It rained some while we were there, then, for the remainder of the journey, we had no more rain except one little shower.
We did not travel on Sunday, except one Sunday as we came through an Indian Reservation, in the Indian Territory, where there were no settlements, so no place to purchase groceries or feed for the horses.
As we came into Tulsa, Oklahoma, we saw our first Indians. We thought the Indian girls were beautiful with their long black hair, wearing colorful beads and jewelry. My father always had good horses, and they were so admired by people on the streets, especially the Indians. The young men of the family noticed this and when we made camp, they took turns watching over the horses at night.
My father drove the first wagon. He had his own gentle horses, Charley and Daisy. These were real covered wagons, and we girls rode with father and mother. Mother had a valise with all our important papers and money in it. We discovered it was gone; so, we stopped all wagons and asked if anyone had found it. Someone had; so, we were very fortunate that we were in the lead.
The oldest son, Edgar, had lost his wife a few years before, so we had his four children with us: Mable, Albert, Beulah, and Ruth. Ruth died a few years after we landed in the Territory. Edgar, the father remarried, built his own home and Eugene went back to Missouri for his sweetheart he had left behind, Ollie Mirrer. He was married three times. Everett married after we got to Oklahoma, too. He married Ola Griffis. They had two children, Laffayette and Gardie. Eugene had two children by his first wife Ollie Minor--just one lived to be grown--two by the second wife Bea Nippert, Willard and Floyd, none by the third. Bessie married Walter Summers--they had one girl, Nellie May, and four boys, Clyde, Carroll, Walter Lee and Eugene. Exie Ethel married Will O'Brien--had 8 children: Cecil Lynn, Hazel Exie, William Barnette, Fay Allene, Margaret Ethet, John George, Betty Jane, Peggy Sue. Bertha Florence married Elliott Bradley, had 9 children: Coral, Lloyd, Ferrell, Boyd, Wallace, Mildred, Edith Fern, Dorothy Fay, and Ruby Bea.
| | |
| --- | --- |
| | Dolly Smith (Minie's sister), Exie, Effie (Will's sister), Hazel and Fay, Minnie Brownlee and Bab Brownlee. |
The Eagan family arrived at their destination near the little store and post office called Jester on October 20. We young people soon became acquainted with the people of the community, for the very first night after our arrival, we attended a box supper at the Methodist Church, which was built near the banks of Deer Creek.
Our father, William, and his sons Eddie (Edgar Rufus) and James Everett, homesteaded 160 acres each, at once. Eugene became old enough to homestead the following June.
Names of my brothers and sisters:
John Samuel--died at age 25, Missouri
Edgar Rufus--died in Oklahoma
Oswald--died in infancy
Aulander William--deceased
James Everett--deceased
Eugene Hendrix--deceased
Bessie Lee
Exie Ethel
Bertha Florence--deceased
Mertie Pearl--deceased
| | |
| --- | --- |
| | Exie O'Brien & Aunt Bessie Summers |
It was on May 10, 1903 that I married Will O'Brien. The ceremony was performed at the Eagan family home by the Rev. Moon at ten in the morning. I had met Will when I was sixteen years old. Barnette Edwards was my school teacher, and he asked Will and me to have dinner at his and Effie's house. Will had been working on the XIT ranch to get money to buy land and cattle. Will and his brother George had leased land in Castro County, Texas.
On our way to Texas, we visited Will's mother, Mother Brownlee. (Will's father was Benjamin Franklin O'Brien, and his mother was Sarah Josephine Fitzgerald. Will had two sisters, Onnie and Effie, a brother George and half-brothers John and Fred Brownlee.) Will sold the buggy and bought a wagon on which we traveled to the Castro County Ranch. Cecil and Hazel were born there.
In 1906, we moved to the town of Hereford. Will went into land development and banking. We built a home and moved into it in 1907. While we lived in Hereford, we bought the Registered Camp. Pete, Fay, Ethel and John were born in the Hereford home.

Exie at 231 Lee Avenue in Hereford in 1908

Exie was also known as Flap to her friends. It is hard for her grandchildren to think of her as a flapper. Seen with husband Will.

In 1917, we moved to Amarillo and bought the house at 1926 Tyler Street, which had been built in 1912. Betty Jane and Peggy were born here. Now, this has been our family home for fifty-nine years.

Johnny weighed just three pounds when he was born. A week later, they moved to Amarillo.
In Exie's Bible there was a handwritten note in Poverbs, which said, "The Eagan daughters were given special Bible versus from the 31st chapter of Proverbs by their mother. This is the chapter dealing with the properties of a good wife. Exie's verse was number 15, as she was born on the 15th of October and reads as follows:
"She riseth also while it is yet night, and giveth meat to her household, and a portion to her maidens."
Anyone who ever knew the O'Briens was amazed by how there was always room for one more at the table and everyone always invited anyone they were with to eat at dinner time. Will often brought home needy children to stay a while with the family.
Exie wrote poetry, tributes to nature, My Picture Book in Color, Thanksgiving, New Year's eve , Genealogy to join Daughters of the American Revolution, O'Brien Genealogy, Eagan Genealogy, Exie and Will O'Brien genealogy
Children of William Carroll Eagan and Minerva Caroline Dameron:

1. John Samuel Eagan, b. ca 1868 in MO, d. 6/25/1893
2. Edgar Rufus Eagan, b. in Oct 1869 in MO; m. twice – (2) Susie ____d. 6/25/1937
3. Oswald Eagan, b.2/28/1872 d. 8/12/1873)
4. Aulander William Eagan, b. 1/11/1874 in MO; m. Minnie E. _____ d. 12/20/1948
5. James Everett Eagan, b. 12/18/1876 in MO; m. Ola Griffis d. 10/15/1970
6. Eugene Hendrix Eagan, b. 6/16/1879 in MO; m. (1) Ollie Mirrer
and (2) Barbara B. Nippert d. 10/8/1956
7. Bessie Lee Eagan, b. 7 Sept 1882 in MO; m. Walter T. Summers d. 10/23/1983
8. Exie Ethel Eagan, b. 15 Oct 1884 in MO; m. William O'Brien d. 11/29/1977
9. Bertha Florence Eagan, b. 12 Dec 1888 in MO; m. Elliott B. Bradley d. 8/14/1970
10. Mertie Pearl Eagan, b. 12/20/1892 in MO, d. 11/25/1893 in MO
Several Eagans still live in western Oklahoma.
Home-Ranches.org