Thanksgiving
Exie Eagan O'Brien, November 1966
Its really winter time because it's November and Thanksgiving is here.
The trees are almost bare, the wind is nice and gentle, no snow, no dust, no rain--not even a sprinkle.
The turkey's cooking easy like, the dressing in the pan, the football game a going just as fast and hard as they can cause some ones "gotta" win, but to the losers will go all the turkey, dressing, pie and cake they can eat. Well, how about the winners? They might be hungry, too. So, help yourself. Its all so good and I know that you have reason to be thankful for such a lovely Thanksgiving day, too.
Thanksgiving in the fifties: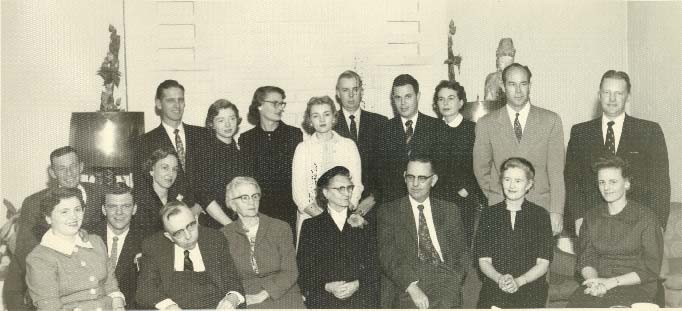 Standing: John O'Brien, Mark Ann Wilson, Peggy Watson, Lynn and Boone Pickens, E. Wilson, Maurine O'Brien, Rob Watson and John Satterstrom.
Sitting: Nell Mitchell, Grub Killough, Marion Mitchell, Mary O'Brien, Mark Oliver, Boots Oliver, Exie O'Brien, Pete O'Brien, Hazel Oliver, Betty Jane Satterstrom.